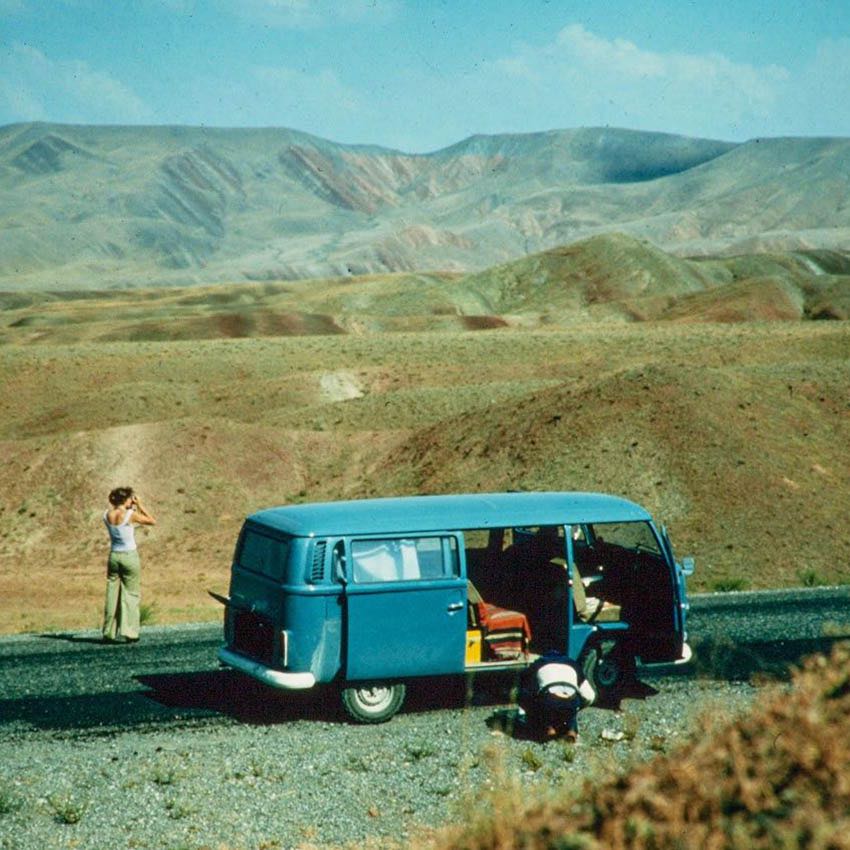 My early years were spent between the bush and the beach in Whale Beach (pic above), north of Sydney, before my family moved to a distinctly greyer London. However three long sea-journeys between the two hemispheres rapidly formed my appetite for the colours and humanity of the tropics. Add to that a well-travelled extended family, and the die was cast.

After completing a degree in French at Sussex University, I spent two years in northern Italy learning Italian, being initiated into the pleasures of excellent food and wine, and having an inevitable brush with art history.
A highlight of that time was an epic overland journey by VW van through Greece, Turkey, Iran and Afghanistan to Pakistan (the pic on right is at Mt. Ararat). Bandits, sublime landscapes, heaps of grilled lamb and total ingenuousness typified this odyssey, shared with Italian friends. The experience helped shape my deep interest in the Islamic world which continues today.
The next chapter was a Parisian foray that lasted 18 years, interrupted by a period in Monte Carlo working for a dodgy art collector. In Paris, jobs in fashion and the art world segued into journalism for US and UK publications covering Parisian arts and lifestyle. This also saw my first book, the Paris Art Guide, a reflection of the booming Mitterrand years of the 1980s when arts subsidies flowed and artists hardly lived in garrets. Cigarettes were of course part of le look though I quit a long time ago.

A commission for a fat cultural guide-book on Paris eventually led to other travel guides on far-flung destinations of Asia and Latin America (see Books). Each year the publisher would offer me a plate of cakes... i.e. a choice of countries to travel around and write about...joy! I reveled in these lengthy forays for most of the 1990s - and all with no internet, a different era. Mexico, Malaysia, India, Indonesia, Vietnam... they all enthralled me.

Parallel to this I wrote on contemporary architecture and interiors, working with the brilliant photographer, Christoph Kicherer, who died far too young. Our features on homes in Sri Lanka, Singapore, Mexico, New Zealand and Australia were widely published. My interior design book, In the Asian Style, appeared later, in 2002
A return to live in London inadvertently coincided with the rise of Cool Britannia but that didn't stop my travel-lust. Embryonic 'adventure' travel of the late 1990s found me hitching rides on outriggers down the Madagascan coast, exploring war-ravaged Mozambique, visiting Bajau sea-gypsies in the South China Sea (right) and catching the last plane out of Guatemala before Hurricane Mitch struck. All was photographed and written about in travel-guides long out of print.

Later, my National Geographic guidebooks on Spain and Portugal led to a role as guest lecturer for National Geographic Expeditions, notably following the Way of St James across northern Spain by luxury train. Besides the Iberian peninsula, both Morocco and the Middle East (where I regularly volunteer during the olive harvest) have become repeat destinations.

After witnessing huge changes in Spain for over 35 years and writing books and features on the country, I still hand my travel crown to Andalucía because, uniquely, it fuses the Arab world with Europe – injected with a huge dose of alegría. There, in my holiday house in the olive-groves, I contemplate the sierra, cook local produce and plot sorties to tapas bars and fiestas. And, at last, I have created a book about it: Andaluz, a Food Journey through Southern Spain.