I was recently back in Tangier after about 20 years absence. In the interim, I've been faithful to other parts of Morocco, but somehow I lost sight of Tangier – though a couple of years ago I did watch its twinkling lights from a rooftop in Vejer de la Frontera, just across the Strait of Gibraltar. Big mistake not to return, because despite being warned about how sleazy it had become, I found it totally beguiling, partly precisely because of its grittiness.
Tangier is certainly not in your face, like Marrakech or Fez, as its sprawling topography spills over hills encircling a bay then stretches out along the coast. The central core is the kasbah and the French quarter of avenues and villas. Beneath the surface there is an unmistakable and seductive whiff of intrigue and covert dealings. You never quite know what will happen as you turn a shady corner of the kasbah. Yes, there's low-life but it's a port after all and, more than that, it lived through over 30 years as an International Zone with a rare tolerant attitude to homosexuality. This was what drew a trail of kif-smoking artists and writers to its sunny shores. Above all Tangier frames the Atlantic and the Med – what a combination, what views, what fish!
I loved wandering through the twisting backstreets of the medina with their splashes of intense colour, steps, viewpoints and blind alleys. We chatted to a café-owner who told us stories of the golden days when Keith Richards and Mick Jagger would slump into kif-induced oblivion in the company of local fishermen. Across the alley he pointed out Barbara Hutton's old house: the panoramic roof-terrace once witnessed parties like nothing since. I just wish I'd made it there in a past life – 40 years or so ago. Today Café Baba feels distinctly has-been, but still.
There are plenty of other dives like this in Tangier, living on an idiosyncratic, cosmopolitan past which, if you know just a little about it, makes them pulse-beating – and part of living history. The last representative of the golden years, the writer Paul Bowles, bowed out just ten years ago, but his Moroccan protégé, Mrabi, continues to lead the Tangerine literary circles.
Some places have undergone facelifts like the lovely old Hotel Continental (above) down on the port, which appeared in the film, The Sheltering Sky. I remember a noisy parrot holding forth here 20 years ago; today it's gone, but the vintage piano in the foyer is said to be one and the same that Humphrey Bogart tinkled on in Casablanca (a film incidentally that was based on Tangier during its international years). But other pianos elsewhere make the same claim – it's just part of typical Tangier legend.
High on the hill, the Grand Hotel Villa de France where Matisse once stayed and painted the view is at last getting the renovation it deserves while the Minzah Hotel, opened by Lord Bute in 1930, trades on its historic stream of Hollywood glamour – Rita Hayworth, Douglas Fairbanks, Liz Taylor, Richard Gere etc etc. Then there's the infamous Café de Paris, once favoured by secret agents and Jean Genet, another of the resident literary gurus, and the legendary bookshop, the Librairie des Colonnes, now distinctly unloved and semi-deserted. And there are more, like the Café Central on the Petit Socco, still a crossroads for the rich, the seedy and the passing trade. The Grand Socco (below) is rather more stately.
But above all there's a new vitality afoot which seems to be catapulting Tangier forwards. Fresh blood is part of it. At the bookshop, an enthusiastic young Frenchman has ambitious plans for reviving the city's literary status. Other creative French expats run new guest-houses in the kasbah while Spanish restaurateurs and even Andalucian musicians are finding their place in this amazingly cosmopolitan town.
Yet you still see large Berber women from the mountains in their broad hats gathering to sell fabulous fresh produce while, every morning on the Grand Socco, tradesmen set up the tools of their trade like art installations – at the ready to be hired for a day's work. Some things remain, like discreet gay cruising in the background and hordes of day-trippers from Spain who flood the overpriced shops of the souk. Cons, or rather clever marketing, are part and parcel of it.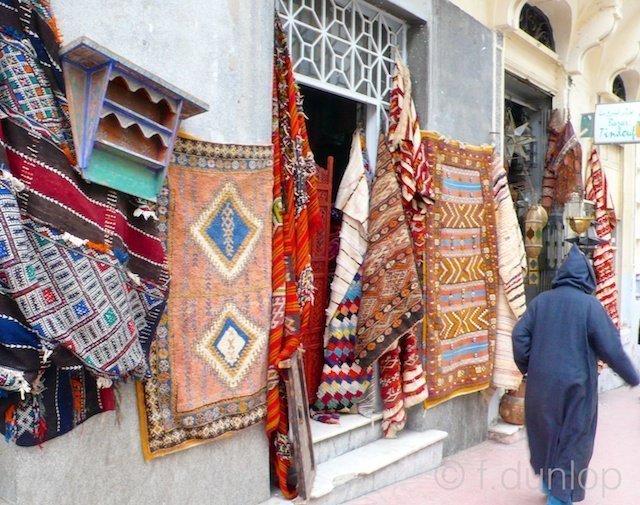 Despite its eccentric cultural appeal and the new money being poured into the infrastructure, one thing to remember is that the Tangerine economy is based on three things: port activities (soon to move lock stock and barrel 30km to the east); illegal emigrants (many come on foot all the way from West Africa in a desperate bid for a boat to get them across the Strait to Spain – many lose their lives or their savings in the process), and finally drugs.
On my last night, I found myself in a restaurant the middle of a traditional wedding party (above). Trumpets blared, older women ululated, young women clapped or danced with trays balanced on their heads, and acres of diamonds glinted. It was obvious that vast amounts of money were present in that salon. Then I was told that the bride's family money came from drug-trafficking to Amsterdam. Typical Tangier, typically louche. Maybe it hasn't changed after all.
To end – a photo from my archives, taken in Tangier nearly 30 years ago… plus ça change, plus c'est la meme chose!