The Spanish are well known for their piscine passion, gorging 36kg/ 80lbs per head of seafood annually (Brits & French around 50lbs, Americans 35lbs). Their fishing enterprise goes back centuries but what is surprising, as I noticed on my recent scouring of northern Spanish markets, is how low prices still are and how little awareness there seems to be of overfishing (or let's say sobreexplotacion pesquera). Here in Spain, it's always stomach first folks!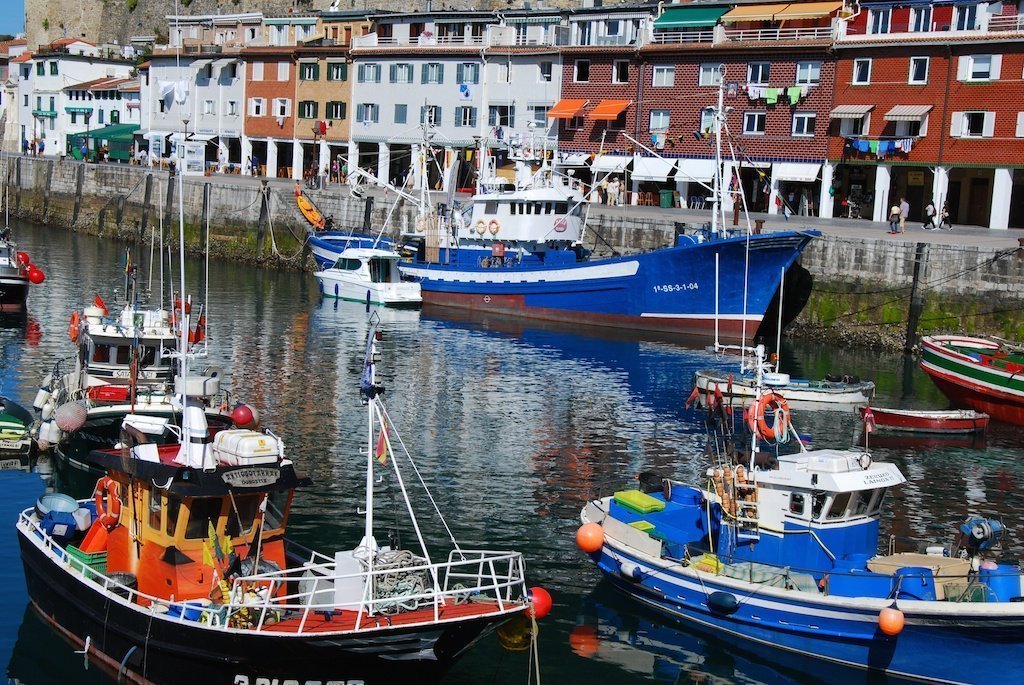 Spain has the largest, most destructive and most profitable fleet in Europe, nothing like these picturesque vessels bobbing in San Sebastian's harbour above. The Basques were crossing the Atlantic in search of whales as far back as the 7th century, but they are not the culprits today. It is Galicia that boasts the massive boats (over 100 m / 330ft long) practising decidedly dodgy industrial-style fishing. From Vigo, Europe's largest fishing port down near the Portuguese border, they head out to South America and to Namibia. Nor do they stop there; a recent news item reported a swashbuckling Spanish captain fighting off pirates in the Indian Ocean – somewhere near the Seychelles. His ship was one of these behemoths that haul on board enough tuna to compensate for such a prolonged exotic trip.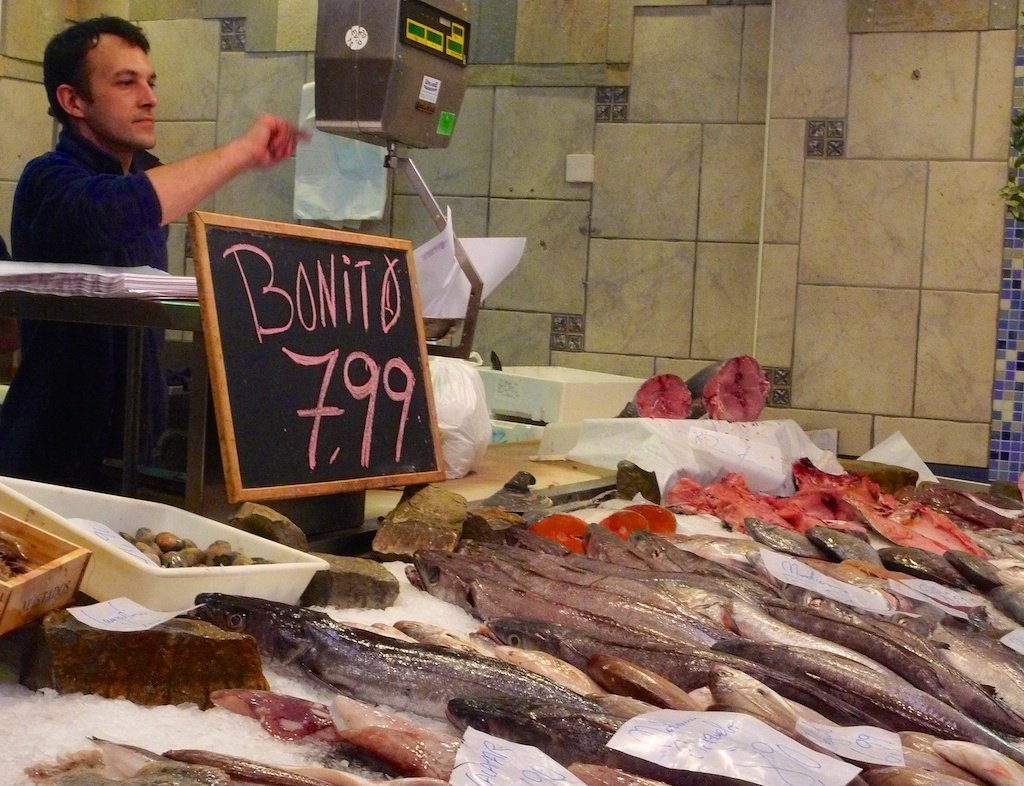 Now this pic above, taken 10 days ago, shows a surprising deal: high quality bonito tuna at a knock-down 8 euros / kilo. This type of tuna from Atlantic waters is supposedly line-caught, so how do they do it? Even more galling for other European fishermen (and European tax-payers) is that the Spanish fleet benefited so hugely from EU subsidies – receiving nearly half the EU fishing budget over a 12-year period. That's almost 6 billion euros.
In contrast the French, Brits and Danes, next in line in terms of size of fleets, got breadcrumbs or shall we say whitebait, or pescaditos. But with Europe's demise, that's all history now.
You've got to hand it to them though, the Spanish have incredible imagination as far as fish and shellfish are concerned. No mere oysters or moules here, instead it's kokotxas (for example), as above. I spotted them again at that foodie fantasy-land, the underground Bretxa market in San Sebastian. What looked like a pile of gelatinous stuff was in fact a mass of ganglions from the throat of the hake (or cod), considered a great delicacy in these parts and justifiably commanding high prices.
Martin Berasategui, a venerable Basque chef touting three Michelin stars, combines them with cockles in a txakoli (local white wine) and chive sauce. Or they can be doused in pil-pil – a typical Basque sauce made from olive oil, fish juices and garlic (trickier to make this emulsion than the ingredients sound). And the good news as far as hake and cod are concerned, is that stocks are actually increasing thanks to global warming; milder sea temperatures encourage the larvae to grow better and faster.
And here's another bargain: lubina selvaje, or wild sea-bass de aqui ('from here'), priced at a mere 13 €/ kilo, only marginally more than the farmed stuff I buy at my local fishmonger in London. How is that possible? Big trawlers and sitant waters are no doubt the answer. In 2010 adult sea bass in the main UK and European fishing areas amounted to around 18,000 tonnes but by 2015 this had halved to 9,000 and is still falling drastically.
While on swimming subjects, I can't resist a tangent to mention what is arguably Asturias' best fish dish courtesy of chef Nacho Manzano (two Michelin twinkles) at his slick Gijon restaurant, La Salgar. A gently panfried fillet of salmon floats in an aromatic melon soup spiked with citrusy and spicy flavours – ambrosial is not the word. Luckily this gastro genius also blesses us Londoners at Iberica, a celebrated tapas restaurant in Marylebone that has now spread its tentacles to several branches all over Britain. Sadly, the salmon is not on the menu – yet. Asturians are fanatical about their wild river salmon and the first of the year sell for insane amounts at auction every spring (in 2018 el campanu as it's called sold for nearly 12000€, not quite the astronomical record of 18000€ paid in 2007 ).
Over in Galicia, I did notice far fewer percebes, aka goose barnacles, those claw-like, antediluvian creatures that cling to rocks where crashing Atlantic surf enhances their flavour. At this time of year they are usually plump, legion and at their tastiest, commanding prices of up to 50 euros/ kilo. This time, barnacle offerings at Santiago de Compostela's mouthwatering food market were decidedly limited, just about compensated for by crates of juicy-looking langostinos, crayfish.
Nor, surprisingly, was there any apparent shortage of octopus vulgaris…prepared as pulpo a feira, above, which entails slow boiling then dissection, a generous sprinkle of paprika and sea-salt, then a drizzle with olive oil. This is Galicia, after all, and here it is an addiction. But it is clear that both Spanish appetites and the industry need to be curbed for the bounty of the seas to survive.
************************
Addendum in 2018: the price of Galician octopus has TRIPLED in the last eight years due to an increasing shortage and soaring demand. Much of it is now imported from Morocco and sold as Galician – but any local can taste the difference. It's the same tale for goose barnacles which are increasingly scarce, so often imported from Morocco. EU regulations have clearly failed here – but sadly it's the same story the world over.