10 days ago I was lapping up Caribbean light and UV on my final research trip to the Dominican Republic. Shame about the country's name really, it sounds so serious, but what a never ending source of wonder that island is. As usual, between less sybaritic pursuits, I found myself on a fast track to another fishy overdose, this time on the northeast coast and adjacent peninsula of Samana, aka paradise.
Dominican fish are tastier off the north coast where they swim in competition with the Atlantic waves instead of wallowing in the tepid Caribbean of the south coast. It is also where to come for a surfeit of lobster (see earlier post www.fionadunlop.com/blog/2012/02/15/dominican-republic-lobster/) though not during their mating season of April to late July. But what I didn't know was the origin of the gigantic, juicy camarones (prawns, or for Americans, shrimps). These I have devoured with gusto at Cabarete's legendary Casita de Papi, where they come drowned in a rich cream sauce. In the boho-capital of Samana, Las Terrenas, closer to their source, they are legio
I first went to Las Terrenas some 15 years ago, and although it's expanded massively since, this cosmopolitan beach community still has that lotus-eating atmosphere, virgin beaches, great bars and some idiosyncratic accommodation options. Dozens of enterprising French and Italian expats have opened small businesses and restaurants there, so expect to eat well between swims, dives, rides and cocktails. And for the record, I witnessed the re-opening night of the Pueblo de los Pescadores – an old landmark known for several well-established restaurants, now completely rebuilt in bland technicolour (pic above) after a devastating fire last May. Sadly it's a far cry from the ramshackle charm of the original. First place to open was a bar, One Love, though neighbouring restaurants will follow and benefit from the new beachside boardwalk.
On this visit I had time to investigate the informal fish market, hidden behind the walled cemetery on the beach where the fishermen unload their catch every morning. There's no shortage of mahi-mahi, grouper, red snapper, shark, lobster or crab, then come those camarones. The best it seems are straight from Sanchez, a small town on the south coast of the Samana peninsula.
A few days later I drove there, up a tortuous road winding through beautiful lush hills to come down the other side where sublime views of the Bay of Samana unfolded. Sanchez itself has little interest other than some fine but decaying old houses, but I found a row of little pescaderias, fish shops, lining the harbour and made some pals, below.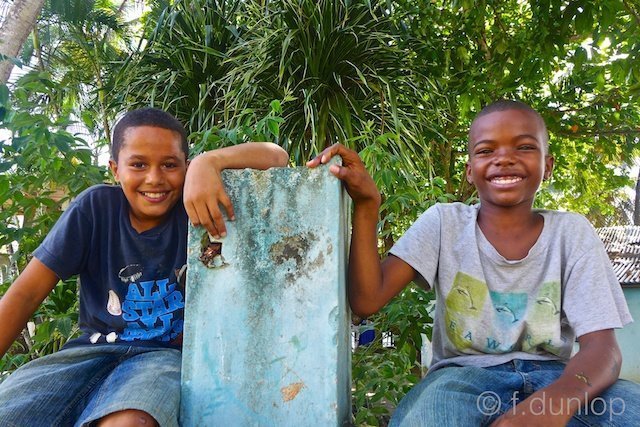 As for mahi mahi – dorado in these parts – easily the best I devoured was at Peninsula House's beach club (below), an exclusive restaurant under lofty coconut palms overlooking crashing waves on wild Playa Coson. Prepared by the Mexican chef, the dorado was tender and harmonised beautifully with a bed of grilled vegetables.
In the hub of Las Terrenas itself, one of the nicest places to eat is the understated yet sophisticated Paco Cabana, where decking stretches to the sand and you can eat under twinkling stars. Here the fat Sanchez prawns were succulent, but so was the fish fillet in coconut sauce, typical of coconut-crazy Samana.
Then there is Las Galeras, at the very end of the peninsula on one of the most stunning bays I've ever seen. Ever since I went there 15 years ago, it's stayed in the back of my mind as a kind of earthly paradise. Humpback whales love it too and come here to mate every Spring. In the corner of the bay, Playa Rincon (above) is the increasingly popular beach that boasts best scenery – but also more trash, an invasion of sun-loungers and some commercially-minded vendors. So, instead of investing in a boat-ride out there, my advice is stick to the gorgeous beach of Las Galeras itself (below). You can eat decent fresh fish at the comedores too, washed down with a cocktail.
Above all Las Galeras claims one of the Caribbean's top tables with a view. How about it?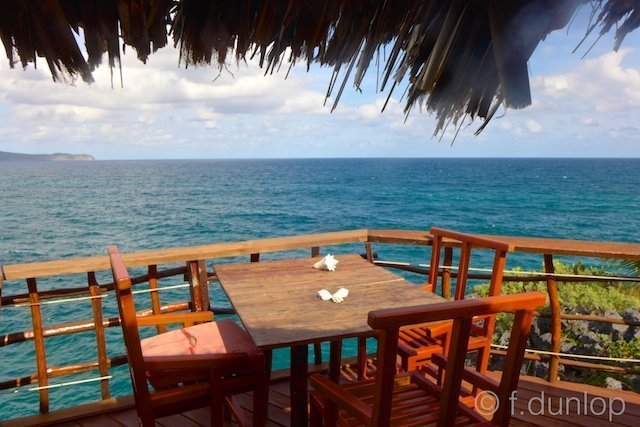 This is at El Cabito, a bohemian guest-house and restaurant teetering on a remote cliff-edge a couple of kilometres from the main drag. The rough access track is normally only accessible by 4WD, though you can arrange a pick-up. Proof of its growing mythical status is that before going there we met a carload of young Americans who had driven ALL DAY from the other side of the island to indulge in late lunch there. Astonishingly, their marathon was inspired by Anthony Bourdain's recent TV show in which he extolled the virtues of El Cabito's grilled fish, consumed while lapping up the view. Their hunger and enthusiasm somehow got their little rental car up the steep and stoney trail. I was knocked out by it too; with Bourdain's endorsement, who am I to argue anyway? I just hope it won't take me another 15 years to get back to this corner of paradise.