In the corner of my fridge sits a vacuum-sealed indulgence – a packet of jamon ibérico de bellota, the last of several I recently brought back from Spain. Sounds and looks good, but what is it exactly? Black Iberian pigs are the source of Iberian ham but not all benefit from the official autumn diet – or rather binge – of acorns, bellotas, and not all hams are quite what they seem—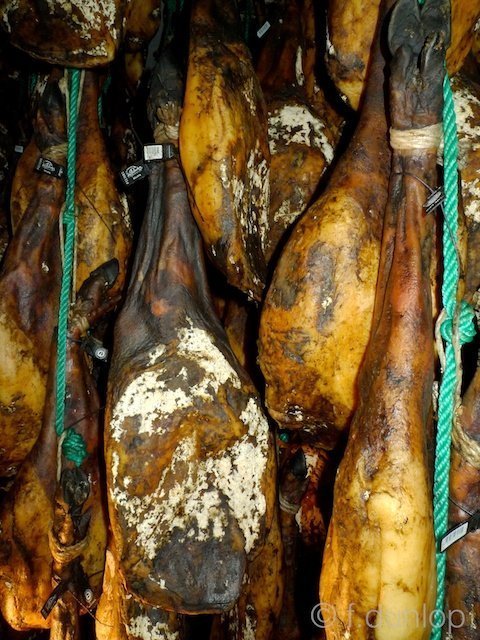 Come January's matanza, slaughter, the poor chaps meet their maker and bequeath their legs to be hung and air-dried for three years, to be later hand-sliced with eagle-eyed precision at a top restaurant or event. So far, so traditional. What has recently changed for this much loved product and for the consumer is its labeling.
Earnest discussion in the Spanish parliament has finally produced new legislation and three clear definitions in what had become an increasingly murky minefield of food production.
Over the years I've spotted these little porcine fellows snuffling around the dehesa (a word referring to gently undulating grasslands with holm and cork oaks) of Extremadura, near the Portuguese border, as well as in the beautiful Sierra de Aracena in the province of Huelva, source of the famed Jabugo and even more famed Cinca Jotas brand. A third official area of production is Guijelo, in the province of Salamanca, though here I'll admit to only seeing the finished legs dangling seductively at the local market. That area is the home turf of Joselito, arguably the most famous and certainly the best marketed of all ham brands: even Ferran Adria endorsed it.
More recently, I visited the rolling hills of Los Pedroches north of Cordoba, the fourth and latest region to be given D.O. status for Spain's top ham (and arguably the world's top ham, beating even Parma, in Italy). Few people are aware of this newcomer as only two co-ops, Covap and Ibesa, produce the exquisite stuff, and for the moment their marketing is timid.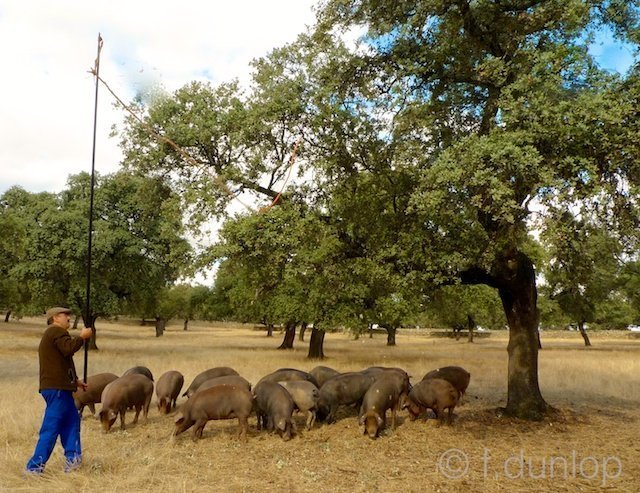 My visit was an eye-opener. Out in the grassy pastures I watched dozens of chubby pure breed pigs trot around happily between cork and holm-oaks, trees that once blanketed much of the peninsula. From October to December fat acorns fall to the ground, or are knocked down by whip-brandishing farmers for the black pigs to gorge upon until the required weight for slaughter is reached. What a destiny.
The farmers I met were dedicated and kind, you can see it from the photo of the farmer's wife below, and it's clear that free-roaming, foraging pigs gain more muscle – all the better for the flavour and texture of the jamon – as well as weight. In fact they double their kilos in roughly three months. Altogether this enlightening experience led me to a much finer appreciation of what lay behind a plate of nutty, sweet bellota ham.
Since then though, I've learned how fraudulent parts of the ham industry are and how many addicted customers such as myself are being conned. Farmers like the ones I met in Los Pedroches really care for the well-being of their pigs throughout their 14-month life in the dehesa. But then there are the large-scale pig farms, where industrially raised porkers never see the light of day and only feed on fodder. Not one acorn permeates their existence. Yet as they are of the indigenous breed, the producers were able to sell their ham as jamon iberico.
Another category is that of Iberian pigs raised outside in the meadows, but not fed on acorns. Then there come the cross-bred pigs, only part Iberian. And I won't even start on jamon serrano, the ubiquitous ham from the white pig. All very confusing, in fact a mine-field of categories that leads the uninitiated down a very slippery porcine slope.
With tumbling prices due to a huge glut of Iberian ham on the market (the pig population quadrupled in just a few years, and remember each pig has two back legs and two shoulders, or paletas — that add up to quite a lot of jamon), the authorities have now introduced three categories to replace the seven of old: jamón Ibérico de Cebo (ham from an Iberian pig fed with natural grasses and fodder), Jamón Ibérico de Recebo (from an Iberian pig fed on a mix of acorns, grasses and fodder) and, finally, Jamón Ibérico de Bellota. They're all delectable but if you can afford it, opt for the last one, the happiest most satiated pig of them all.
Here it is, awaiting you on a plate…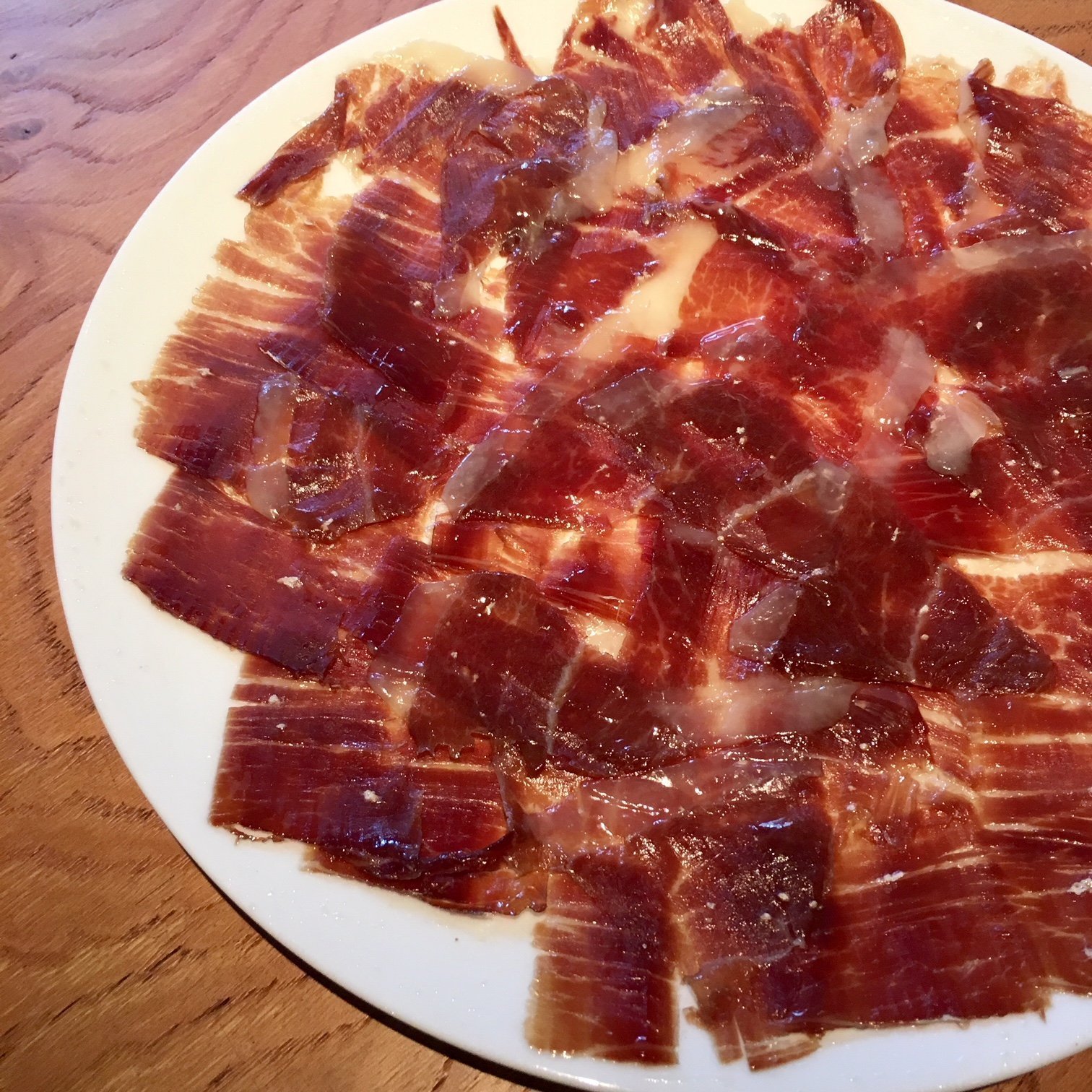 Best fact of all is that Iberian ham is good for you, as it's antioxidant and packed with vitamin E. Top bellota as above contains excellent quality fat, with high levels of oleic acid (over 50%), the same that's found in olive oil (Iberian pigs have been nicknamed "olives on legs"). This helps the body's production of HDL ("good cholesterol"), while reducing LDL ("bad cholesterol"). So folks, pig on and pig happily out!