As a follow-up blog post to my previous one on the Alentejo's cork binge, here is a more in-depth look at a pioneering new hotel in Portugal, the Ecorkhotel, which has just opened (2013). As any regular follower of this blog may have noticed, I don't usually promote hotels but in this case it seems innovation deserves applause. And, better still, it's in soft opening mode until mid-July, so this will be the first review in English. Yeh!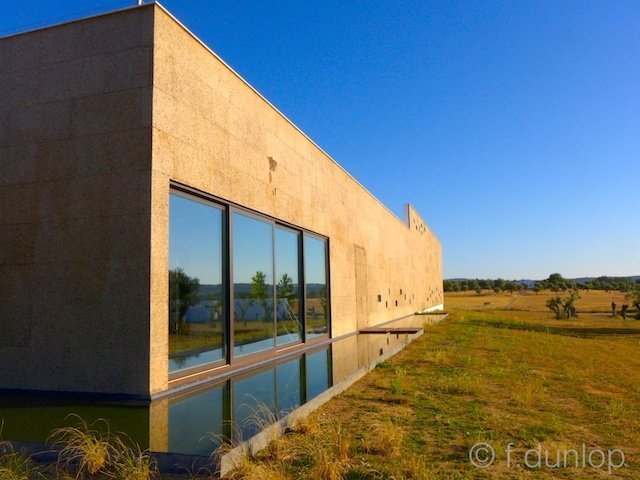 Claiming to be the only cork-clad hotel in the world, creating eco-friendly acoustic and thermal insulation, the Ecorkhotel also uses geothermal heating in the main building and solar panels for all hot water, so its eco-credentials are pretty good. Located just 7km from the World Heritage town, Evora, the large low-lying cube designed by Lisbon architect, José Carlos Cruz, sits in 8000 square metres of veteran cork-oaks, holm-oaks and olive trees.
Even more trees march up the hillside behind to encircle neolithic dolmens and menhirs. As owner and general manager Manuel Policarpo explained to me, it took two years to actually build, but nearly ten to marshall ideas and permits. By law, no cork tree can be cut down, so the design had to work around them.
The result is rather extraordinary, certainly unexpected in this deeply rural area – although with a few caveats. Above all, why are the 56 white suites (each one a separate unit, therefore needing more concrete and energy to build) lined up so rigidly and symmetrically, softened only by sparse wild grasses and the odd olive tree? Manuel explained that they want to preserve the natural ecology of the area, but a few more olive trees wouldn't go amiss – and straight lines are so last century!
Do guests really want to return to their rooms down long alleys of identical white buildings, like a monotonous hotel corridor transposed into the great outdoors? It's a shame, because the L-shaped suite design works well, giving each unit a private patio accessed through sliding glass doors from the bedroom and living area. Inside, although not huge in area, most furnishings are of top quality, the bed linen was fabulous, lighting subtle, blinds perfect and silence total – bringing a deep night's sleep.
Back in the main building, I was gobsmacked by the spa's interior pool, a real beauty as you can see in this pic – and solar-heated. For outdoor swimming you climb up to the roof – another blaze of blue with sweeping views of the surrounding fields and hills. It might get pretty furnacelike up there though.
Luckily cool Portuguese design was omnipresent, in handmade floor-tiles and specially made furniture, occasionally lurching into wicker armchairs in the restaurant, Cardo. This was another huge success, nicely oriented to overlook fields, again with sliding glass doors onto a terrace. The alternative is to eat in the cool inner patio, a nod to traditional Arab house design, where a couple of immovable Alentejo boulders were incorporated into the staircase.
The food was fresh and sublime thanks to the young chef, Gonçalo Queiroz, a 27-year old native of Evora who's worked in some inventive Lisbon restaurants. Here's my deliciously tender braised duck breast with medlars, a bed of creamed spinach and mashed cherovia (14€).
And here are those divine little Portuguese chicken pies – seductively presented. Wines, as always in the Alentejo, just slipped down – it's a region to watch on that score, and prices are unbeatable for the quality. A couple of bottles came back in my suitcase so I'll be drinking to cork futures – pop.
www.ecorkhotel.com – suites start at €120.