Ever since I last set foot in Portugal's Alentejo region a few years ago, the entire cork industry seems to have made an impressive turn-around. Back then it was doom and gloom, with apocalyptic visions of languishing cork-groves due to the onward march of the screwcap – of which I am not a fan. No welcoming pops as you uncork that bottle of silky red, particularly among New World wines, just a tight metallic twist that sometimes sticks. But fast forward to 2013 and it looks like cork diversification is bearing multiple fruits, from handbags to hotels.
Witnessing the cork harvest (usually in May – June but delayed this year due to unseasonal rain) last week in the Serra de Grandola was an eye-opener. It is one of the most labour-intensive industries I've ever seen as so far no genius has invented any mechanised methods. At the most there's a tractor which hauls huge stacks of freshly cut bark through the rolling groves, but it's men working in pairs using basic axes who do the hard graft. Each tree then has to wait another 9 years before it can be harvested again, so further increasing costs.
Cork oaks are wonderfully gnarled trees but look even better once the lower bark has been stripped – revealing an intense red ochre trunk worthy of the central Australian desert. It's only slightly spoiled when the junior of the team appears, a pot of white paint in hand, to paint the last digit of the year on the trunk – so this year it's 3. That's how they know when a tree has regenerated for a mandatory 9 years. Most continue to be stripped until they're about 150, although they survive a couple more centuries. But no one can touch them, as they are strictly protected by Portuguese law.
I was astonished to learn that 60% of the world's cork comes from Portugal, and about three-quarters of that from the Alentejo, a beautiful, intensely rural region unfolding south and east of Lisbon. Cork-oaks share the landscape with olive-groves and vineyards but, like the Spanish dehesa so loved by Iberian black pigs, they need richly bio-diverse meadows to thrive in – montado. Hence our little group sniffing and picking our way through deliciously aromatic, herbal scrub, from rosemary to thyme, oregano and an oddity that smelled distinctly of fragrant curry. As the shadows lengthened it was time for the men to slope off home – bizarrely, although they share the same climate (and history) as Andalucia, the Portuguese keep very Northern European working hours – without a siesta. Their picnic lunch is taken in the groves, and work stops soon after 5pm.
Today there are dozens of qualities of cork, whether compressed, spliced or in sheets, making it altogether a bit of a designer's heaven. This diversification has produced an incredible range of products from umbrellas (yes, they're waterproof) to shoes, handbags, belts, wallets and even furniture, although I didn't see anything like Jasper Morrison's ironic Cork range of stools – imitating bottle stoppers. I did buy a bag, lightweight, so perfect for summer, as well as rainproof and washable.
And remember cork tiles on bathroom floors? Very 1970s, so you may not, but now larger, thicker tiles are being used to clad entire buildings, giving them natural sound and thermal insulation, therefore multiplying their energy efficiency. This I saw at the brand new Ecorkhotel, a sharply modern place just outside Evora built amongst – what else? – cork trees. Although there's not much cork elsewhere in the hotel, apart from a geometric mural in the highly recommended restaurant, Cardo, the exterior is impressive and may, let's hope, set an example for other eco-construction. Reaad more about it here.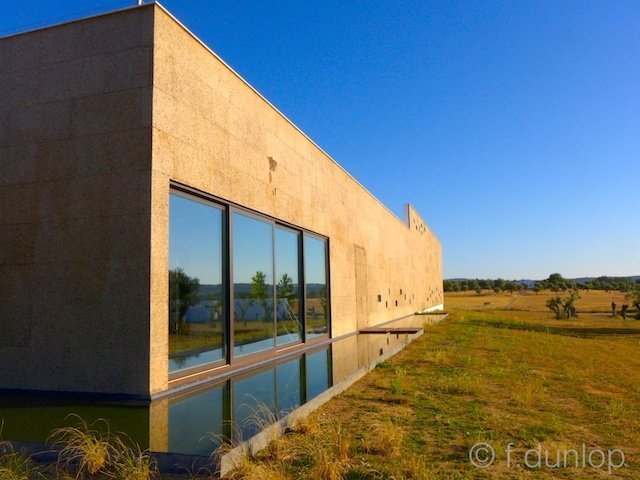 Meanwhile, I'll fling in a last statistic for onward thought: 40 million bottle stoppers are made daily in Portugal: this remains the principal destiny of the material. The good news is that international winemakers are returning to cork thanks to two main properties: its natural expansion inside the neck of the bottle (making it sometimes a tough pull), and its very slight porosity which allows the wine to breathe. While experimentation continues apace to try and match the low price of synthetic corks, I can only beg anyone reading this to buy wine with real cork stoppers – they represent a quality of tipple that you never get with screwcaps or synthetic stoppers, as well as a timeless way of life – and employment that hangs by a thread. Or next best, buy a cork handbag.
Herdade das Barradas da Serra www.barradasdaserra.pt – cork farm near Grandola with B&B accommodation
Ecorkhotel www.ecorkhotel.com – smart new hotel entirely clad in cork with a separate grid of 56 blinding white suites
Cortiçarte, Parque Industrial, Azaruja, Near Evora – a cork factory with shop attached – about half the price of Lisbon's shops
From the UK, good deals are available at Herdade das Barradas da Serra + flights & transfers through www.sunvil.co.uk