Sometimes a town gets forgotten, and that seems to be the fate of Hebron, or Al-Khalil to give it its Arabic name (meaning 'friend'). Only 30km south of cosmopolitan Jerusalem and even less from pilgrim-packed Bethlehem, it nonetheless feels abandoned, lost in the Judaean Mountains. I went there last week after previous planned forays had fallen through – and was shocked, even knowing the context of the iniquitous occupation.
From Bethlehem it's an easy ride by 'service', those snazzy egg-yolk yellow vans (in fact shared taxis) that career around the arid hills of the West Bank. I love the way the seven passengers solemnly and silently hand their shekel fare one to another to reach the driver in front – who, one hand on the wheel, digs around for change with the other.
Once I'd tracked down the Bethlehem terminal, bizarrely hidden on the upper floor of a shopping-mall (pic above), it was go go go. The service soon filled up, zipped out of Bethlehem onto an Israeli controlled road & some 40 minutes later we entered Hebron. The first sight on its outskirts was vast fields of grape-vines, one of the area's hallmark products along with figs, dairy produce, glass and pottery – as well as tons of limestone from surrounding quarries. The walls of the old city are its best advertisement.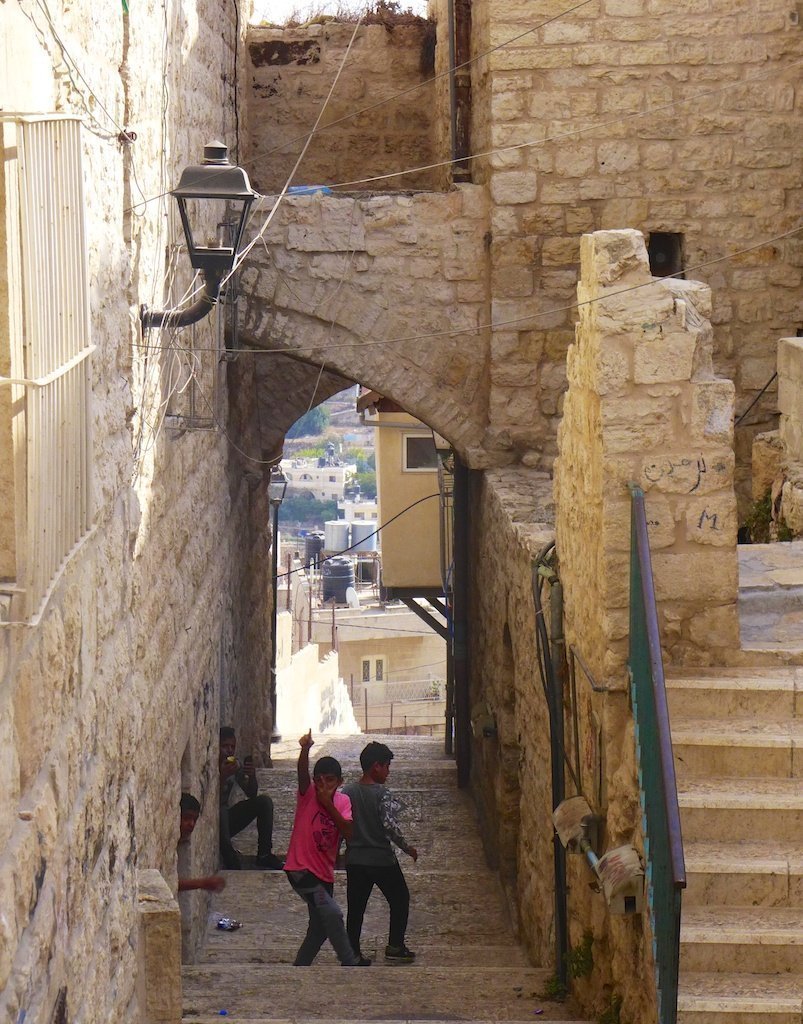 For a town of about 160,000 inhabitants, easily dwarfing Bethlehem's 40,000, Ramallah's 60,000 or Nablus' 130,000, Hebron feels small. And it has a problem, religious of course for this is the 'Holy" Land. Hebron is ancient, going back 6,000 years, the first capital of King David according to the Bible, and allegedly the burial site of the Prophet Abraham plus a few others – at the Tomb of the Patriarchs. Even King Herod left his mark, building a hefty wall to enclose the tombs. This makes it Judaism's second holiest city after Jerusalem, one of Islam's four holy cities and a significant Christian one too. A tough role to play in this fraught, divided region.
After endless clashes and killings following the 1967 Israeli occupation of the West Bank, in 1997 the city was divided in two – Israeli control for its 800 or so settlers and Palestinian control for the 160,000. In reality, Israeli control permeates the entire city, and in 2015, during the explosive 'Third Intifada', checkpoints and soldiers were everywhere – along with killings, beatings and general harassment. Schoolchildren had to be accompanied for fear of settler attacks – and still are; the Quakers do a great job here.
It's too complex and heart-wrenching a story to go into further (nor is it one-sided, as Jewish blood was spilled by Palestinians too) but on this sunny October day Hebron feels peaceful, also desperately poor and run down – as in this street of semi-ruin below.
Of course I immediately head for the old town, a beautiful Mamluk and Ottoman labyrinth of twisting lanes, vaulted arches, stairways and towering limestone houses, all studded with shrines. Much of it has been impressively restored in the last 20 years – and yet… A few kids run past me, the occasional old man shuffles by or a woman in a hijab carries her shopping – but otherwise it feels deserted. Rare open doorways reveal repair shops. spilling out dusty electric fans, microwaves, vacuum cleaners and anything else remotely repairable. A sign of hard times – and also impressive recycling.
I stumble across a 'Visitors Centre' with a Palestinian dozing in one corner and, at least, very good maps. I had come without a guide-book, so this was welcome; my repeated refrain of 'where's the Al-Ibrahimi mosque' in Arabic was getting tired.
Through a turnstile checkpoint manned by gun-toting Israeli soldiers, I at last come to the imposing Al-Ibrahimi mosque, source of so much friction and blood over the centuries. The Mamluk entrance stairway (below) is spectacular yet inside, once again, the place is semi-deserted – incomparable to the hordes thronging the nave of Bethlehem's Church of the Nativity (2 million tourists so far this year).
A few Palestinian women, an imam, a couple of men – that's it! I am amazed, but also seduced by the sobriety of this mosque and its soaring arches. Not too much glitter for once.
From here I plunge back into the old city to explore the souq and its wares – what remains of it. Because here I'm confronted by dozens of shuttered shops, row upon row of them. Only one short stretch is animated and open for tourists, Al-Shuhada Street. But where are the shoppers? I'm almost alone, certainly among only a handful of foreign visitors.
And here I come to Hebron's notorious flashpoint between Palestinians and Israeli settlers. The latter have been moved into the houses towering above the bazaar into which they have a habit of tossing garbage, urine and other niceties.. The result is a wire mesh and sheets of corrugated iron – and depressed shopkeepers. "What have we done to deserve this?" cries one when he sees me taking photos. And, naturally, they plead for sales.
Further on I'm relieved to come across a few pottery shops, and a row of food-shops. Appetites at least survive, whether for jars of freshly churned butter, tubs of spices or trays of k'nafeh, that addictive Palestinian sweet.
Then surreally, I see a horse tethered to a shutter, a hair-dryer abandoned on a café chair (the café of course empty other than a few young men playing pool at the back) and a kind of cave-shop selling and sewing animal skins – presumably bought from Bedouins in the nearby desert. The plight of the Bedouins offers yet another abysmal record of human rights abuse in the West Bank – and another story.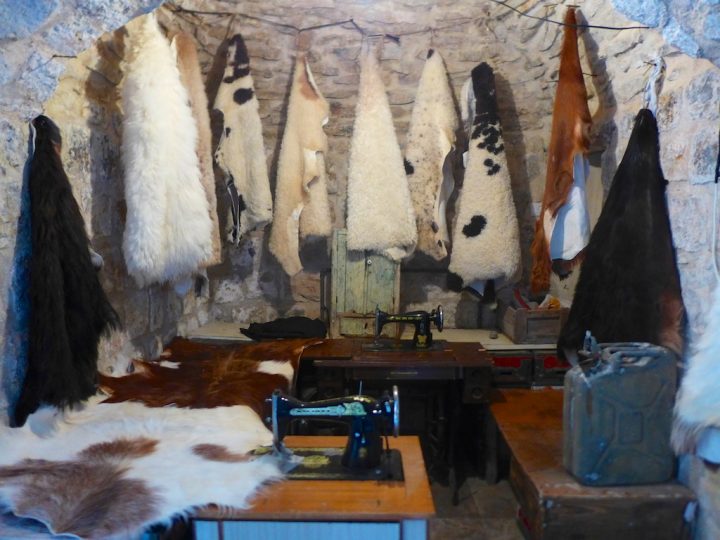 Hebron is like a theatre-set with no actors. A tragedy. I buy a goatskin, spices, pastries, another pair of earrings that I don't need – and head back to Bethlehem. I have now seen Hebron, and shan't forget it.
*************************************************************************************
Find out more on Palestine and the West Bank in my other posts: – Palestine's top chef, Jerusalem, the strength of Palestinian women, Jericho, the new Palestinian Museum, the separation wall, the olive harvest
Also my post on Bethlehem's top restaurants for CNN.com
And my piece in the Financial Times on harvesting olives for Palestinian olive oil
In Your Middle East on Nablus  and on the archaeological site of Sebastiya