Even before going to Albania, I was amazed to read glowing reports on the food. And the reality on the ground pretty much reflected that, though I avoided the cutting-edge restaurants (yes, they do exist), instead sticking to traditional ones. There I found a delectable hybrid of Italian, Greek and Balkan cooking, always using ultra-fresh produce and home cooked on the spot. Not a whiff of sous vide here – it seems Albanians never abandoned localism.
Near the coast, it was all about seafood, and joy came at a place called The Mussel House (above, & yes the name was in English) overlooking a dreamy, mountain-backed lagoon. Just yards from our table, mussels were farmed – so out they came on a rope, soon to reappear on our plate, sautéd, juicy, delicious. 1kg cost 500 lek – aka £3.50 / $4.50. Seafood linguine slipped down well too.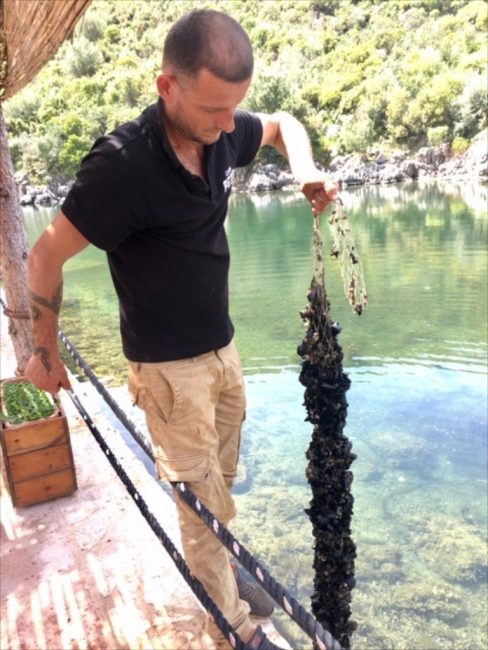 Over in the highrise port of Saranda we were surprised to find the rather avant-garde plating below for Perime Ne Scarre – or simple grilled vegetables, as well as countless dishes in saganaq mode i.e. cooked with garlic, tomatoes, peppers, shallots and basil. A true, highly nutritious reflection of the Mediterranean diet.
But it was further inland that we started to dive into more unusual Albanian dishes. It's said that Girokastra has the most traditional and delectable dishes, but as the entire historical town centre (formerly the Ottoman bazaar) was being dug up to lay new cobblestones, our quest was a painful, tiptoe process. However we struck gold at the charming Sofra restaurant on the main square. At this family business, ageing mum served while energetic daughter wielded the pans – the reverse of the norm.
The very drinkable red wine was from their own vineyard and the qifqi – crunchy rice balls spiked with mint and fried in olive oil (like Italian arancini) were ace – a perfect textural balance. Here we also sampled shapkat, a spinach pie of flaky pastry – something that crops up again and again as byrek, as well as peppers stuffed with herby rice and the ubiquitous qofte, meatballs. Names like these sound very familiar from Turkey and the Middle East – a reminder, yet again, that we're in Ottoman gastro territory.
Another good restaurant in Girokastra was Kujtimi, again super-friendly and with a vine-shaded terrace strategically placed to watch life go by. But altogether the town felt rather like it was tipping into touristsville and losing a good dose of authenticity.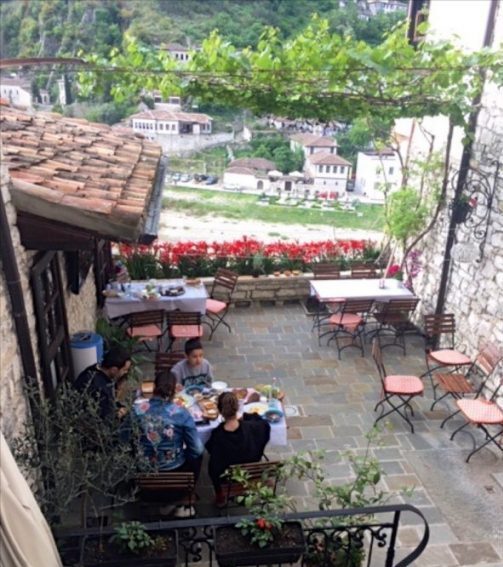 So it was onwards up the country's spine, Albania's main road, bringing us across a mountain-backed plain and agricultural valleys to Berat. Now here, in this stunning enclave, we really tucked in, starting with a mega breakfast at our traditional guesthouse in the breath-stoppingly steep Magalemi district. The little terrace (above) made a perfect spot to kick off the day with eggs, pastries, cake, crusty white bread (very typical) with homemade jams (including my favourite, fig), fresh orange juice, fruit and invigorating strong coffee. Stagger on…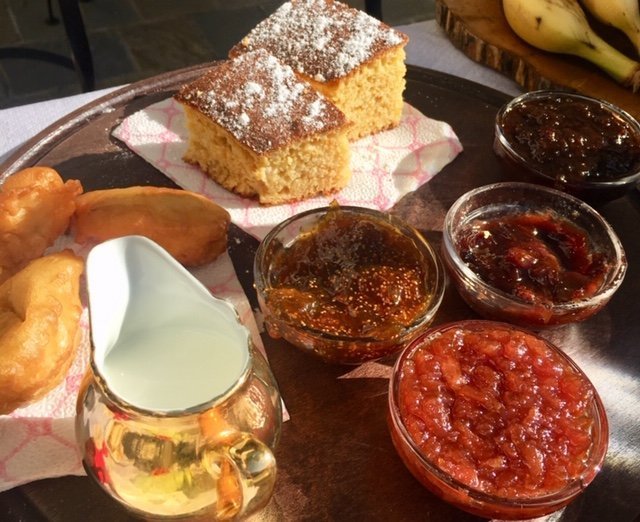 That set the tone, as Berat turned out to be a foodies' treat. Now if you search on Tripadvisor for Berat restaurants, one of the top places is Home-made Food Lili (+ 355 69234 9362). It's hidden up a tight whitewashed alley, totally basic inside and severely short of tables; in winter there are three, in summer the tiny patio stretches to two more. So we didn't get in!
Who knows if Lili really is the best, but after panting further uphill, we stumbled across Guva, a small hotel with a restaurant – and a fabulous roof-terrace. A tempting menu in Albanian and English led us to a comfortable window table with sparkling views down to the river, where we tucked in royally. I was curious to try the popular Fergese, a kind of tomato, pepper and ricotta dip but admit that it looked uninviting, and was underwhelming. But ahhhh, the Bretkosa – fresh frogs fried in batter – what a crunchy delight, and the Patellxhan Te Mbushur (roasted aubergine with tomato, shallot and oregano) totally luscious.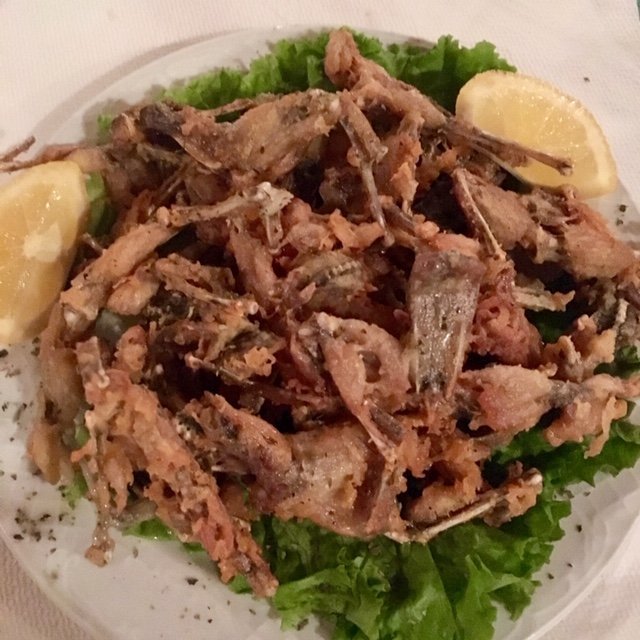 Best of all though was a dinner up inside the citadel walls, near the entrance, at the Restorant Antipatrea. Here we were talked through the menu by the owner Bashkin, an outgoing, good-natured man who had worked for 17 years in Florence and so spoke fluent Italian. Incidentally, on the subject of communications, there was never a problem in Albania as many young people speak English and others Italian – learnt from TV beamed across the Adriatic.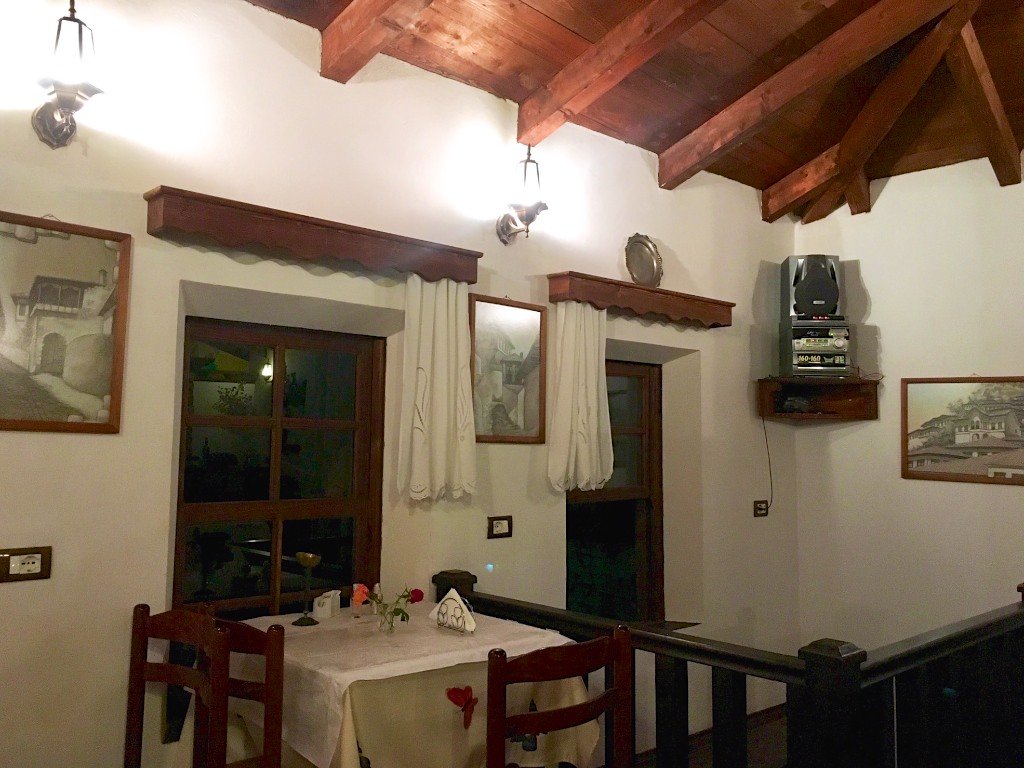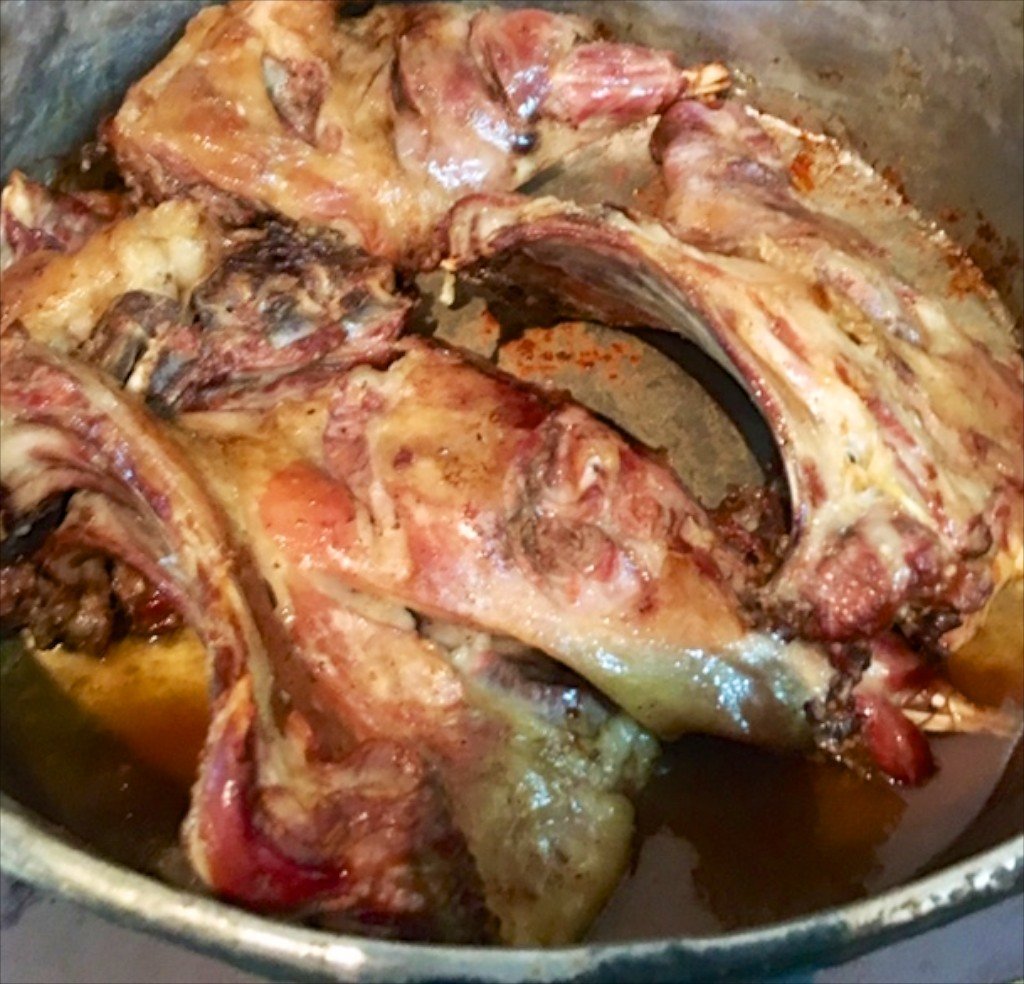 So here, in a typical Albanian interior, we settled into a tantalising array of dishes ending with juicy lamb slow-cooked in a copper pan – seventh heaven. A clever trick of Bashkin's was to serve lightly toasted bread sprinkled with a few drops of olive oil, salt and pungent oregano – bad news for the waistline, but a divine mop for the juices. And again, the homemade red wine was extremely drinkable.
There were plenty more unusual dishes – like Tave kosi – sour lamb casserole, or rather lamb cooked in a yoghurt sauce, and Tarator, a zingy gazpacho of cucumber, fennel, vinegar, walnut and spices. Sadly I missed a classic dessert of figs stewed in sweet milk spiked with cinnamon – but so easy to make that I'll be having it soon at home.
And of course every meal ends with a dense Turkish coffee —-