"To Aqaba!" was Lawrence of Arabia's war-cry over a century ago, and which I was out to repeat in 2019. Our motivation was not quite the same though. T.E. Lawrence was an ally of the Arabs in their attempt to oust the Ottomans – which they carried off successfully at Aqaba in 1917. For us, though, the port was a mere stepping-stone to Petra and Wadi Rum. Yet it turned out to have a surprising amount of allure – much thanks to its stunning location at the tip of the Red Sea, looking across to Eilat and the Negev Desert. First though came the Dead Sea…
A circuitous arrival
Our journey had not been on camel back across the Arabian desert, rather it was a trip by long distance Israeli bus from Jerusalem. After five hours of driving parallel to the shrinking Dead Sea (another big climate change story), the bus pulled into Eilat bus station where we hopped into a taxi to the border (35NIS, probably too much, but our impatience won). And, oh joy, we were the only people at the crossing! Compared with the intense interrogations and queues at Tel Aviv's Ben Gurion airport, this particular exit from Israel was a breeze, despite the 105 NIS ($30) exit fee.
Downtown Aqaba
Out the other side, armed with a Jordanian visa from a charming immigration officer, we caught another taxi to the centre of Aqaba – barely 15 minutes away at the base of a rugged escarpment. It's a beautifully laid out city with broad avenues, plenty of greenery (palm-trees and splashes of bougainvillea) and not too many highrises – yet.
I'd chosen a budget hotel in the heart of downtown, Amer 1 on Raghadan Street, for its view to the sea over the picturesque dome of the Sharif Al Hussein Bin Ali Mosque. Despite its ramshackle exterior, it turned out to be clean, comfortable and genuinely friendly – perfect for our needs. Unfortunately a massive shopping mall is taking shape right next to the mosque, partly blocking the view and a sad sign of commercial progress…
Yet at sundown the little balcony of our room came into its own, as by then we'd picked up some beer from a local liquor shop (far better value than at bars and restaurants). The toast? To Aqaba of course! And with what a view.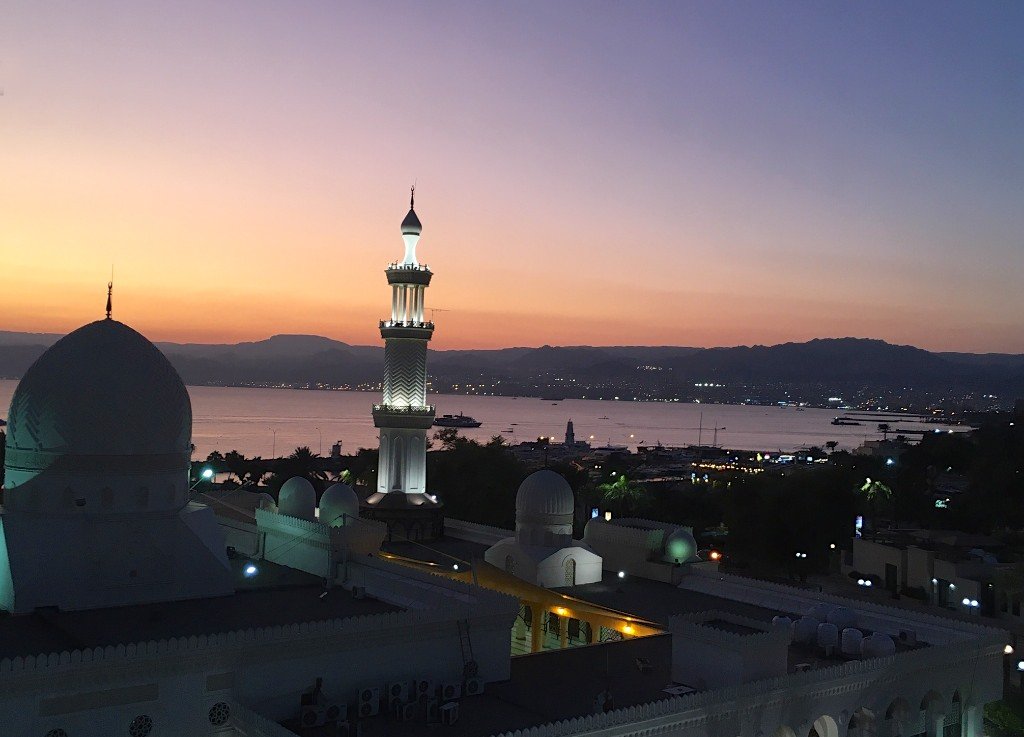 Much later, to digest, I took a late-night stroll past foodie haunts, late-night shops and a quirky outdoor shisha cafe. Here a football game on wall-hung TV monitors enthralled men glued to their mobiles, puffing on hookahs. Down on the seafront, glitzier shops and hotels lined a broad boulevard where large saloon cars and SUVs glided past. Further south was Aqaba castle, but that had to wait for next time round.
Move on from Aqaba to Petra – read about it in my blog post here
Jordanian food and drink
The hotel turned out to be surrounded by attractive, low-key restaurants, either with pavement tables or tucked down side-alleys. A few steps took us to the Syrian Palace Restaurant for fresh grilled fish and a fabulously frothy limoun bi nana – fresh lemon juice with mint. Tourists were plentiful as Aqaba is turning into a busy crossroads between the desert and the deep blue sea (the Red Sea has long been known for incredible diving and snorkelling).
Next morning, we were at another neighbouring restaurant, Bukhara, to indulge in a typical Jordanian breakfast – fattet hummus, fool, pickles and olives, washed down with thick black, aromatic coffee. All delicious and sustaining for our imminent road-trip to Petra. Read my post about that marvel here.
My nose soon led us to the fruit and vegetable market at the southern end of the street, a dream of pungent aromas: Arabic coffee, freshly made flatbread and pastries (sambusas) as well as a hint of sweet shisha tobacco. Of course there was no shortage of spices and tea ingredients: cinnamon, dried sage, za'atar, sumac and deep crimson hibiscus flowers. Ultra-fresh vegetables vied with an army of jars of pickles and sacks of fresh olives, while elderly men sat outside chatting and drinking coffee.
It's all so seductive, from the long balmy evenings to salivating flavours and that inimitable view. Aqaba Exotica!