Petra – a magical name of a place I've longed to see for decades, and finally made it. Ten years ago I came close after travelling south from Syria via the fabulous Roman site of Jerash to stay in the ramshackle Jordanian town of Madaba. It's famed for a 6th-century mosaic map of the Holy Land and the nearby Mount Nebo, allegedly where Moses first spotted the 'promised land' however time was short so Petra had to remain a bucket-list fantasy.
Desert, rock and no Bible
This entire region is so replete with Biblical connotations that on this trip it was a relief to finally reach the ancient Nabatean capital – with absolutely nothing of the Bible about it. Instead, for me there were geological reminders of Cappadocia, in central Turkey, of Palmyra, in Syria's desert (before ISIS destroyed much of it), of Morocco's High Atlas mountains and even of Australia's Red Desert. But Petra is incomparable. When the sun dips late in the afternoon, tomb façades and rock faces take on a rose-orange hue as if a spotlight had been flicked. It's exquisite, seductive, overpowering and whisks you far back in time.
Beautifully sited, barely visible amid the arid, rolling hills, escarpments, eroded sandstone and desert of southern Jordan, Petra's monuments are now firmly established on the Middle-Eastern tourist trail. In 2019 visitors will total well over one million, an increase of about 40% a year. I was told that 4,000 came daily this October – but that is high season.
Some Nabatean history
Where to begin in this archaeological marvel spread over 60 square km? Most of the structures are about 2,000 years old, ranging from just BCE to the 1st century AD and built as part of the Nabatean capital. These people were the ancestors of today's Bedouins, nomadic Arabs who lived between the Negev Desert (in today's Israel) and what is now Saudi Arabia, even briefly controlling Damascus at one point. The prosperous trade route between Mesopotamia and Egypt became their source of considerable income.
Petra was where they chose to build magnificent, gigantic royal tombs and temples carved into the red ochre sandstone, a desert wonder, however as usual it was the Romans who put paid to this creative dynasty, which disappeared in 106AD.
Entrance and exit
The main entrance is at the Visitor's Centre in Wadi Musa where convoys of day-trippers from Amman are dropped off by coaches to join hundreds of travellers staying overnight in myriad hotels and guesthouses – so it's heaving. Wadi Musa sprawls down a steep hillside, surprisingly picturesquely, though today of course it is chiefly designed for tourists. When I spoke to the local head of police, yawning in front of TV beamed from the Gulf, he told me that crime is virtually non-existent – "It's mainly traffic incidents" he said with infinite boredom. So safety is assured.
In this huge site you can easily walk your socks off for three days to remote tombs off the beaten path, many high up, requiring good lung capacity and calf muscle – also lots of water and a guide. Watch out for weather extremes as, even in winter, the daytime sun is powerful – and the nights can be bitterly cold. For the average visitor (me), two days were sufficient.
The majority of people enter via an overcrowded, 3-km path from the Visitors' Centre that leads through the incredible Siq, a steep, narrow gorge sandwiched between towering cliffs, to reach the remarkable, much photographed Treasury (Al-Khazneh). As you walk, horse-drawn carriages trot rather closely past, followed by the odd galloping camel – so beware!
From here a further 3 km or so lead past the Royal Tombs and the Great Temple to the free-standing Qasr Al-Bint, once the most important temple in Petra and now a hub of visitor activity – from a large café to WCs and the start of the climb to the Monastery.
Umm Sayhoun – the back entrance
Our choice of entrance was different though. I had heard about entering Petra via the back entrance which is located in the Bedouin village of Umm Sayhoun, a 15-minute drive north through the hills from Wadi Musa. This is where Bedouins were rehoused after moving out of Petra's cave-dwellings a few decades ago. It's not exactly high-end and, for the moment, accommodation options are limited. The advantage? People staying in the village can enter Petra from here, an easy downhill walk (2 – 3km) along a deserted wadi to the hub of Qasr Al-Bint.
So we booked ourselves into a very basic Bedouin homestay in the village (well worn, spotty wifi, shared bathroom – but plenty of donkeys braying evocatively outside and delicious traditional breakfasts) in order to gain this privileged access. It was a good move, as otherwise you have to be accompanied by a guide. Do not believe anything you read or are told about getting in free via this entrance – tickets which you get from the Visitors Centre are assiduously checked at the gate.
So a blissful morning saunter (downhill) followed, only interjected by chats with passing muleteers en route to work rather than the babble of international tourism and souvenir-sellers.
Mules to the Monastery – Ad-Deir
Then comes the fun! At the crossroads by the ruined temple of Qasr Al-Bint you are at the base of a humungously steep climb up 850 (numbers vary depending on who you're talking to) slippery, well-worn, rock-cut steps to reach the highlight of Petra, the towering Monastery (Ad-Deir). Being less than fit, my travel-companion and I chose to hire mules – readily available down below. Camels line up here too, squatting patiently in all their finery, while their owners tout for business offering rides to the Treasury and even further into the hills.
For 10JOD each (about $15), we hired two mules from a certain "Mohammed of the golden tooth" who we had met earlier on the long, winding path from the back entrance. Typically, he was summoned by a colleague on his mobile – 21st century rules even here. After being heaved up into the approximate saddles, we were off, our mounts clambering nimbly up the steep steps, picking their way past endless trinket stalls, tea-shops and breathless tourists.
Is it ethical? Possibly not, but then again, mules are raised to transport people and goods. My mule, Asous, was particularly energetic, with a yen for being first which entailed some hairy overtaking beside sheer drops. The views, when I could raise my eyes from the vertiginous path, were glorious. Close to the top, Mohammed stopped to help us dismount, leaving the last stretch to be done on foot. No idea why, but that was fine, the worst was over.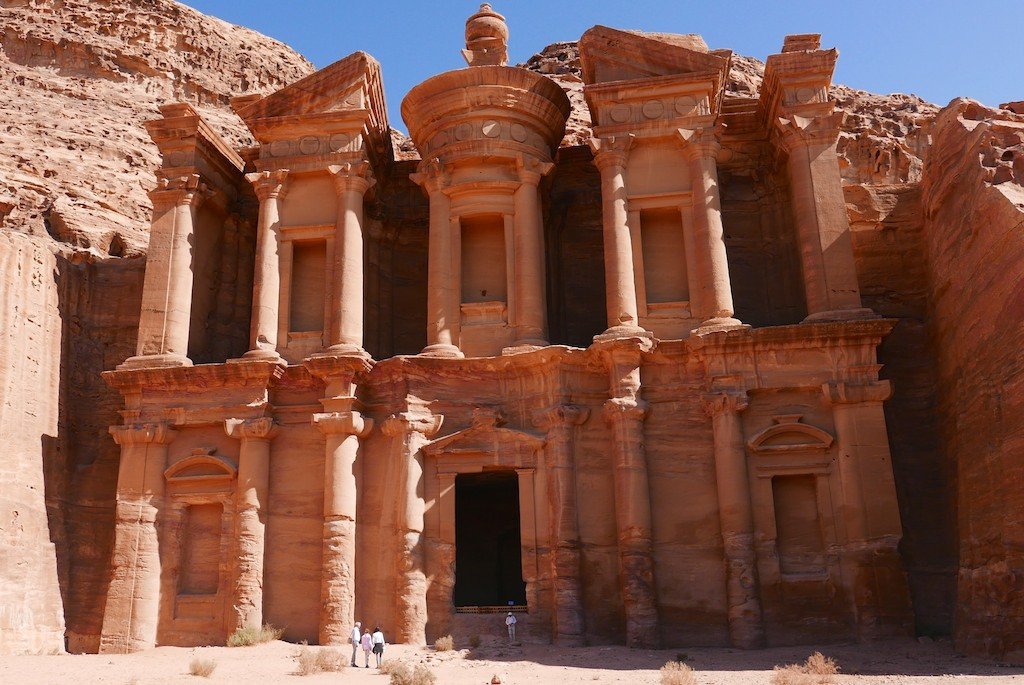 Suddenly, rounding a corner – what a sight! Ad-Deir, or The Monastery – so-named because it was later used as a Christian chapel – rises 48m into a dramatic backdrop of craggy red sandstone, its perfectly sculpted columns and pediments totally incongruous in such a wild setting. Of course a conveniently sited tea-shop sits opposite – with benches for ogling this masterpiece.
Another half-hour saw us pick our way down the steps, this time able to admire the views and even stop for freshly pressed pomegranate juice – sheer delight. Then, from the base it was onwards to the Great Temple, another stunner on an impressive scale…
There's plenty more to say and write about this extraordinary site – but of course the last line has to be – "go there soon", because it's already feeling distinctly overrun. Don't believe my photos!
Getting there
Access is easy by rental car from Amman or, as we did it, from Aqaba, the Jordanian port on the Red Sea that looks across at Eilat in Israel and is just over 2 hours away. We used Dollar through a broker – about £25/ day. You will need a Jordan Pass (purchased in advance online) for 2 or 3 days, depending on your energy and how much you want to see. The pricey Pass gives you a free visa at the border as well as access to numerous other archaeological sights in Jordan.
For budget-travellers, there are buses from Amman and Aqaba to Wadi Musa, where accommodation covers every price point; you can also get a taxi to Umm Sayhoun, though choices here are limited.
Numerous low-cost flights (Easyjet, Ryanair) now operate from all over Europe to Aqaba, while Amman is served by international airlines.
Read my older post on Syria's Palmyra and its semi destruction by ISIS & later by Assad's troops . And prepare yourself with a night in Aqaba – read all about it in my post here