It's now been a month since our UK government announced lockdown, following belatedly in the footsteps of neighbouring European and more distant Asian countries. Inexcusable delays in implementing this mean that we're now on course to having the highest number of Covid-19 deaths in Europe – mainly because our illustrious leader was so obsessed with fulfilling his "get Brexit done" mantra, a clarion call for social and economic disaster. Hubris ain't the word.
So now, four weeks into this ironically stunning Spring, I look around this shuttered (and shattered?) city – yet somehow it feels like we've entered a new norm. Deserted streets speckled with a few joggers and walkers, former restaurants doing a roaring trade in rather good takeaway food, other restaurants morphed into gourmet food shops, while our usual corner shops, many Turkish-owned in this neighbourhood of north London, still display shelves heaving with fresh fruit and veg. There's certainly no vitamin shortage.
Even more, at Bournes, the fishmonger up the hill, there's a dazzling display of fresh fish from Cornwall and further afield (some ace Argentinian langoustes), and Godfreys, the neighbouring organic butcher is certainly not short of lamb or beef. Both of them enforce strict social distancing, leading to patient, spaced queues on Saturdays and relatively fast service on other days.
One shop I shall not return to for the moment is Al Bahia, a once favourite Algerian grocer where I buy boxes of fresh dates, Moroccan olives, jars of preserved lemons and other North African specialities. However there is zero sense of social distancing inside, and in fact I saw a couple of blokes fondly hugging at the door – so I'll give it a wide berth for the moment. And with Ramadan starting later this week it's likely to get worse – no food, drink or cigarettes from sunrise to sunset means rather edgy Algerian nerves.
Saddest of all, I shall not be returning to Ahmet Kamil, my lovely cobbler on Newington Green, a warm, smiling Turk whose chaotic shop always worked miracles on handbags, shoes, blunt scissors or shears. He was an early victim of Covid-19, as was his elderly father a week before him. His shop festooned with messages and flowers is proof of how much the community embraced him – and will miss him.
On a more cheerful note, the only positive thing our government has done is to allow us to take daily walks and even drive to a park or green space. This is in total contrast to draconian Spain (where you're only allowed to walk up to 50m from your house – those poor dog-owners – or to go shopping), or France or Italy. The problem is that here the running-fanatics have multiplied, or are out twice as often as before, often brushing past walkers and spreading their sweat and/ or pant droplets. Most have headphones, so don't hear when you object loudly – not good!
Bizarrely, the Spring of 2020 has been one of the best ever, and we have enjoyed day after luminous day of clear blue skies in tandem with frothy blossom and chirpy nesting birds. As a result, my partner and I have taken to picking one of four daily sorties: nearby Clissold Park (originally an 18th century private estate – the stately house remains) with its duck ponds, flowering shrubs and swathes of grass where runners stick to pounding round the outer paths; a little-known wetlands area at Woodberry Downs where we've observed a swan build her nest before incubating her eggs; Highbury Fields for more grass surrounded by some swoon-worthy Georgian architecture, and finally, best of all, the incomparable Hampstead Heath.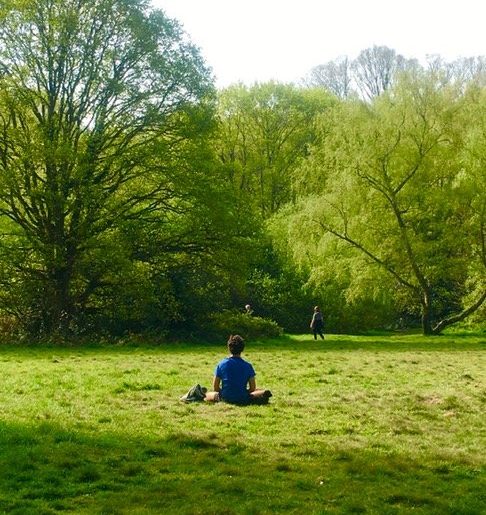 This urban wilderness, a mere 6km from Trafalgar Square, is a place I've been going to since I was a child, and yet there are still plenty of corners I've never set foot in. Alice in Wonderland would love its endless twists and turns – and, yes, rabbit-holes! It's absolutely vast – 320 ha (790 acres), includes the highest point in London and encompasses lakes, ponds, wild woods, hillsides and a network of trails and paths. At this time of year it is absolute magic, with fresh green leaves colouring the silhouettes of trees, carpets of bluebells and other wild flowers, slopes blanketed in yellow gorse and a cacophony of bird-calls, no doubt invigorated by the now unpolluted air.
There are runners of course, but you can avoid them easily by heading up into wilder parts, while a liberal sprinkling of wooden benches donated by grateful (and defunct) heath-goers offer welcome rest and time to drink up the views and verdant surroundings.
Because this is what we've gained – a new sense of time and a closer observation of nature. And this is in London, a city of over 9 million people.
(p.s. no thanks to our government)