Ready to ride
From my hoteI it was an easy descent down stone steps to hop straight into a motorboat, ready to ride. In Negombo? Yes. Because despite the off-putting reputation of this coastal resort (thronging tourists and budget hotels) due to Sri Lanka's international airport down the road, it has plenty to offer. I soon discovered, it's easy to escape other Westerners (in many cases, Russians) who stopover there when arriving or leaving the country, and equally possible to find a fabulous hotel.

In my case, as the dire economic crisis was just kicking off in early March, I found myself holed up there for a few days. Inspired to explore the coastal offerings, I soon gave the beach a miss. It was popular with local families, but the waves weren't inviting and the backdrop of unappealing hotels hardly scenic. No problem – I had other fish to fry.
Water water everywhere
Historically Negombo has always been favoured as a sheltered port, whether for Arab traders, the Jaffna kings or the Dutch East India Company. Today it is still chockablock with trawlers, outriggers and other vividly coloured boats, has a couple of burgeoning fish-markets and a vast, pristine lagoon stretching to the south. So this was what I decided to investigate, partly prompted by my hotel being smack beside the Hamilton Canal.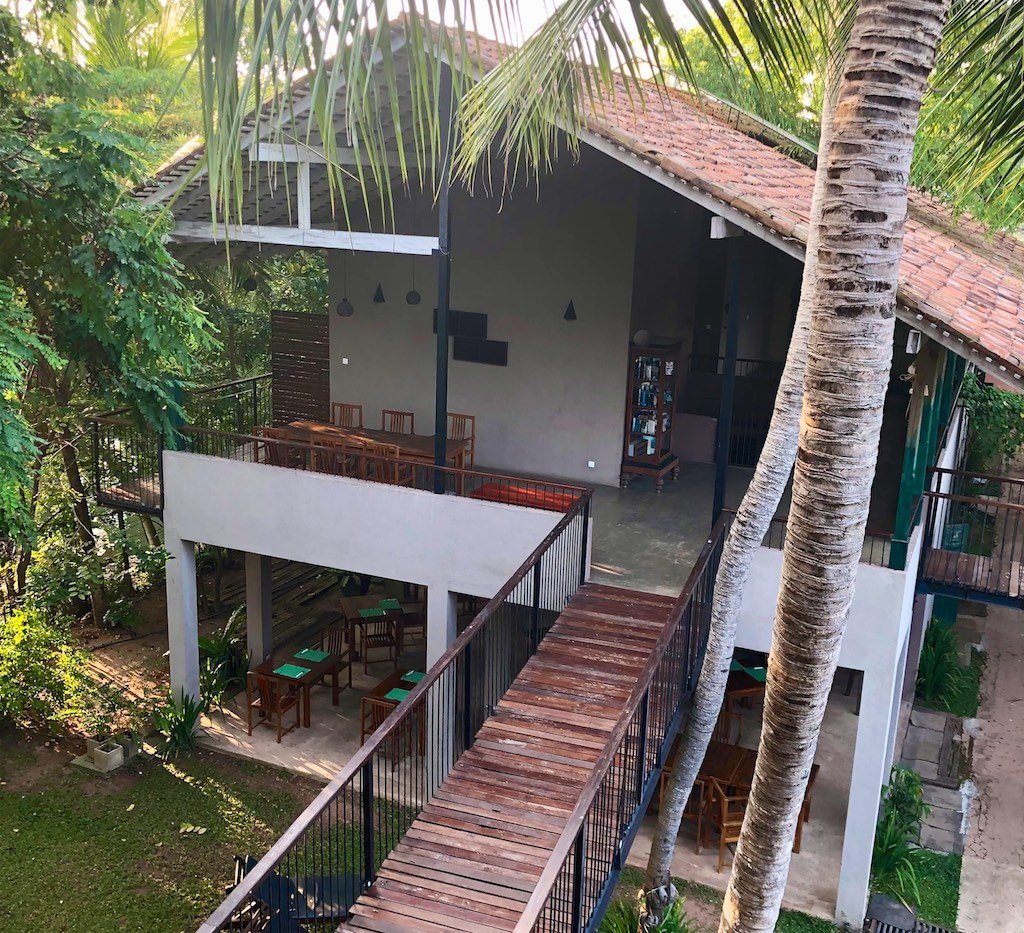 Ayur Ayur perfectly reflects the tropical inside-outside style developed by Sri Lanka's pioneering architect, Geoffrey Bawa (in fact the hotel architect studied with him), full of walkways, ponds and open-sided public areas. My deliciously spicy Sri Lankan breakfast was served on a terrace overlooking the canal, and my balcony partly overlooked its luxuriant banks. An evocative addition was the soundtrack of toots from an aging train as it rumbled north to Jaffna. All delightfully rustic.
The Hamilton Canal
This beautiful waterway extends 15 km from Puttalam all the way south to Colombo, threading its way through Negombo en route. Towering rain trees bow over the banks beside coconut palms, breadfruit trees and dense tropical undergrowth alive with birds (kingfishers, purple herons, egrets). Water monitor lizards and mischievous capucine monkeys occasionally find their way to the hotel too. Further south, before the canal enters the straggling port, come rows of fishermen's shacks used for habitation or storing nets, plus all the sounds of daily life. Bridges bring unusual perspectives, too.
Built in 1802-4 by the British authorities (a certain Gavin Hamilton was one of its protagonists), the Hamilton Canal was an add-on to an existing network of waterways dating from the Dutch colonists (1658-1796), canal-experts par excellence. Cinnamon was their most profitable export. Sad to say the 21st century has inevitably brought pollution, and local families seem to think one long stretch is a dustbin. Plastic bottles ahoy!
Into the lagoon
On two successive days I made dreamy boat-trips with different operators, each time with the vessel to myself plus boatman and guide. A treat. First came a late afternoon tour with Captain Fernando which took us through the port. Here we saw battered trawlers that usually head towards East Africa – when there's fuel. Conditions can't be easy for the fishermen who live aboard for weeks on end – but in early 2022 the Sri Lankan government's ineptitude was making things even worse.
From the boat-lined banks we puttered onwards to the mangroves where the tide was low enough to climb out and paddle beside kids splashing in the shallows. Here too we passed small outriggers used by crab-catchers who lay nets in the lagoon. However a surreal surprise soon loomed: a huge statue of Jesus appeared to be rising from the water – in fact standing inside a netted enclosure. Insane, but there's a good reason. Negombo is heavily Catholic (65%) due to the 150-year rule (1505-1658) of the first colonists, the Portuguese. This is reflected in numerous surnames and boat names (take a ride on Ave Maria!), as well as shrines and massive churches punctuating the old centre. Earlier, a wander through this colonial quarter became a journey in time – accentuated at one point by the quaint clacking of a typewriter.
After watching a rosy sunset as birds winged past to bed down in the mangroves, it was back to the canal and a magical journey home.
Monkey business
My early morning tour was even more mesmerising, offering flickering sunlight, pools of shadow, groups of fishermen untangling nets, people brushing teeth, women pegging out laundry and kids waving cheerfully as we cruised by. For four hours I enjoyed the cheery company of Sarath of Sarath Boat Tours – an eagle-eyed guide passionate about birds and very knowledgeable about the lives of Negombo's fishermen.
From the canal we sped across the lagoon towards the marshes of Muthurajawela, a protected area of narrow channels crisscrossing the wetlands. Clamorous bird-chatter led to more bird-spotting followed by a chat with a crab-catcher precariously balanced on his canoe. Then came another highlight – the luring of monkeys onto the boat using the ploy of chopped bananas. It worked! Double-quick they spotted the fruit, clambered aboard, gobbled, then either leapt back into the bushes or plunged overboard to do a splashy crawl. Ever seen a monkey swim? Me neither. Only in Negombo.
It's a place that certainly deserves more than just a stopover.