Heading off-piste
After hurtling along a semi-deserted road cutting across rural Andalucia (the A384 to be precise), we turned off to plunge through vertiginous switchbacks leading south. Nothing new there – just typical Andalucian sierra. But our destination was unique – Setenil, a pueblo blanco cascading down a hillside from a Moorish fortress to a river, all of it interlaced by limestone cliffs pockmarked with caves.
Over the centuries dozens and dozens of tiny whitewashed houses have been built into the cliffs to front the caves – rather like the more famous Guadix just east of Granada, or Turkey's sculptural Cappadocia. But Setenil's cave houses have even more surprising features. Some have virtually no light due to huge slabs of rock blocking the sky outside, others crouch below overhangs that look distinctly threatening. The jig-saw character of the urban fabric almost feels theatrical, yet its history goes back a long way.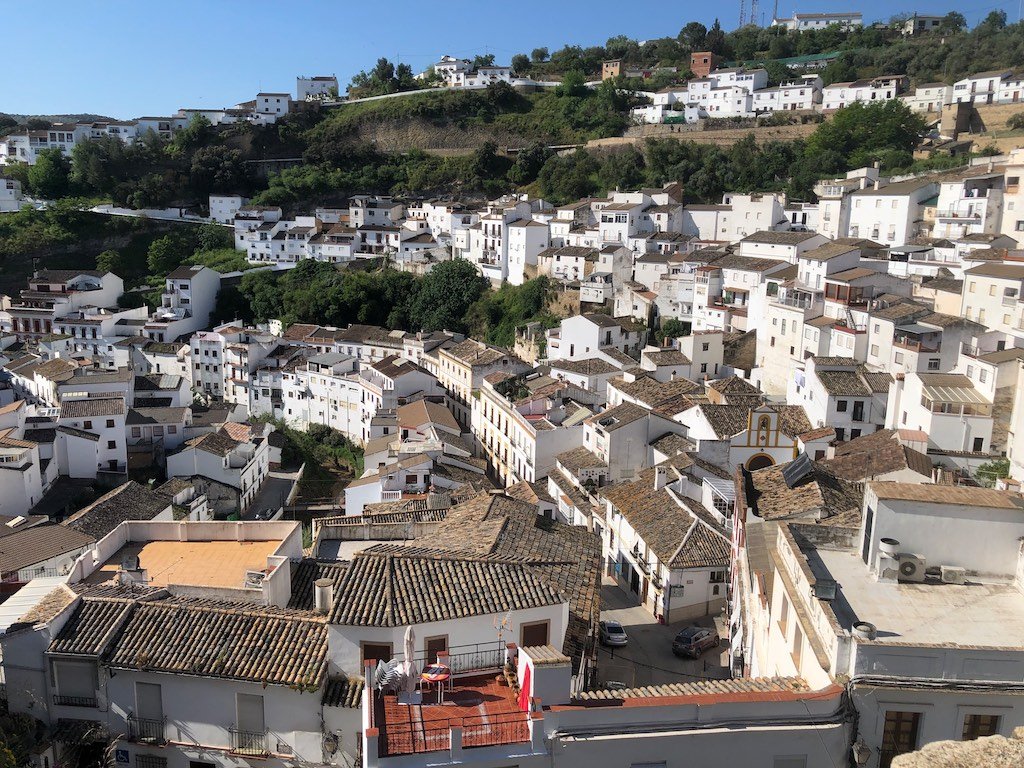 From prehistoric cavemen to vintners
Setenil de las Bodegas (its full name) was once a flourishing town of wine-producers (hence 'bodegas') and before that a Moorish stronghold seized by the Castilians in 1484, just six years before the fall of Granada. Rewind fourteen centuries further and it was peopled by Romans, a few thousand years more and Setenil was part of a regional network of cave-dwellers.
Today, although the bodegas have disappeared due to the phylloxera disease of the 1860s which destroyed so many of Spain's vineyards, plenty of agriculture remains. Almonds, olives, honey, goat cheese, pork products and pastries are among the offerings beside a line-up of tempting tapas bars, little restaurants and grocery shops. Many of these spill out onto the pavement beside the bends of the rio Trejo. In classic bullring style, the sunny bank of the river is Calle Cuevas del Sol, the shady one Calle Cuevas de la Sombra. Take your pick according to season – there are several footbridges.
Uphill struggle
A climb through this steep town is hard work but not to be missed despite the lure of the bars down below. Quaint chapels, a late Gothic church, immaculately maintained houses, spectacular views, pant-inducing steps and tortuous cobbled streets finally bring you up to the remains of a 12th century Almohad wall and torreón (tower/keep) crowning the town. After negotiating a scarily cramped staircase to the rooftop, your pay-off is sweeping views over the surrounding countryside. In the main hall there is little to see other than a reconstructed Moorish interior and a damp cistern way beneath.
Next door, however, there lurks another beauty inside the compact Casa de la Damita de Setenil. Here, proudly displayed among a handful of local archaeological finds, is a tiny, rudimentary figure of a woman estimated to be 5,000 years old – proof that life existed in Setenil a long long time ago.
Beware the Setenil hordes
As Setenil is only about 30 minutes drive north of Ronda along a much straighter road than the one we used, this unique urban curiosity heaves with day-trippers. Some come from as far as the Costa del Sol and at weekends throughout the year it's the domestic variety that wins out. The result is that tapas bars cater mainly for long, lazy lunches, packing up in the early evening on Sundays. Some also close mid-week. But don't despair, you'll never go hungry in Setenil – and many never venture further than the riverside.
Sweet dreams
One place that is open daily is the very good Restaurante El Mirador, part of the Hotel Villa de Setenil at the top of the town. Their innovative menu showcases local produce – just what you want – while large windows frame the sierra and a row of cave-houses across the valley. It's impossible to forget where you are. All very dreamy at night too when just a few pinpricks of light are visible.
Although the hotel sorely needs a facelift (its style is basically 1980s 'modern'), many of the spacious rooms have large terraces and – a big plus – it stands directly above the only public car-park. That means more uphill steps – but is ultra convenient. Otherwise you can test troglodyte-living yourself by staying in a cosy cave-house. Setenil's tourist office lists dozens of them and will also arrange visits. In the end though, however you arrange your stay, you certainly won't forget this extraordinary and very magnetic town.