The moment you step onto a lurching vaporetto at Piazzale Roma and hear the groan of the gears, you know you're back. My latest visit to Venice (read about an earlier one here) in early November kicked off at night, so the boat-bus journey on route 5.1 (cinque punto uno in local parlance) was pure magic. Cool breezes, flickering lights, the broad, inky-black Canale de la Giudecca and even space to enjoy the elements on the little deck.
Zattere
Zattere in Dorsodouro became my main boat-stop for a few days. It offered a tantalising line-up of bars and restaurants overlooking the water across to Giudecca Most days this was where my friend (a seasoned Venice-visitor) and I had breakfast, escaping a rather gloomy though well situated rental apartment, minutes away. The sun blazed from deep blue skies making sun-beamed tables gold-dust – with croissants and coffee in the same league. Yet despite the autumnal sole, one morning we were woken at 6 a.m. by a siren warning residents of aqua alta – high water. And there it was, lapping at the end of our alleyway, an essential Venetian experience.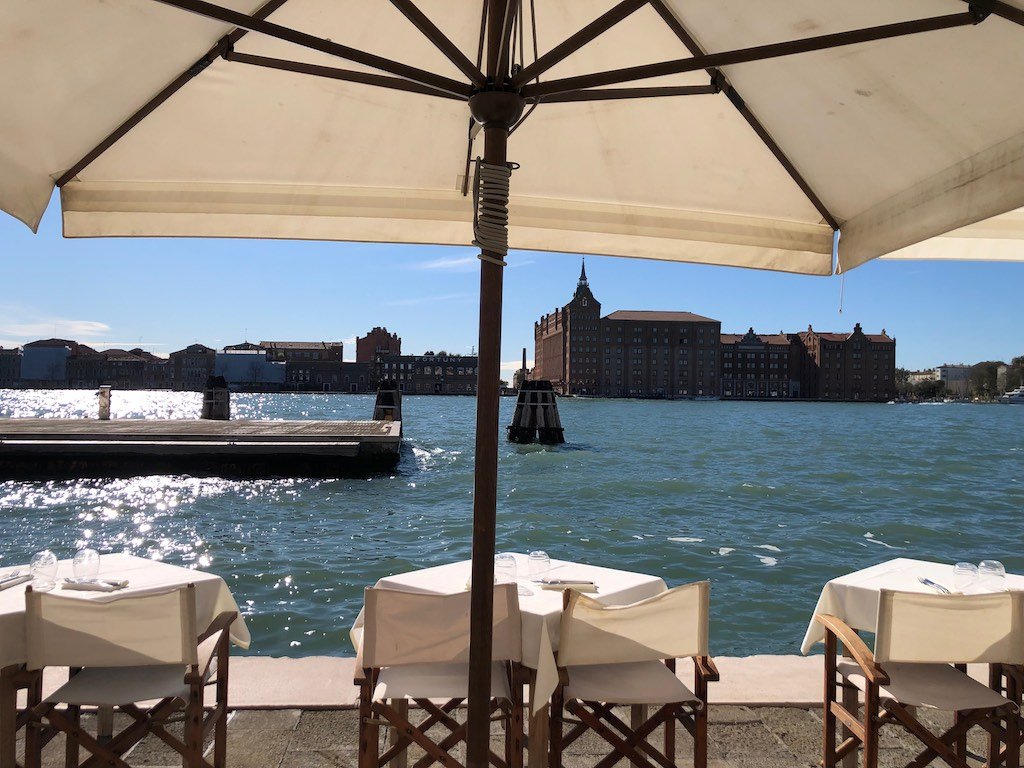 Behind this frontliine of Zattere a web of streets, picturesque canals and piazze led to Accademia, Venice's home to pre-19th century art which faces a humpback bridge – the route to touristy San Marco. It would take us a few days to actually venture to the other side. Flanking the bridge was an excellent Chinese-owned (sign of the times) pizzeria that helped staunch our hunger and a late-night bar our thirst. And in the back-streets leading there we discovered a few gastro-jewels.
Eating and drinking
We never went hungry. Just up our canal we came across a modest little restaurant Ai Cugnai dal 1911 ('at the 1911 brothers-in-law') where I tucked into a fegato a la veneziana (fried calves liver with onions) – a simple Venetian classic that I love. A shellfish pasta was a little under par – but the warm service compensated: accommodating and jokey – nor was it a tourist rip-off. I also made a discovery: Pinot Grigio – yes!! Now I always avoid this ubiquitous staple of English pubs. Far too insipid. But the Venetian version was very different, full of body and pinkish in colour, it hit the spot.
Another day we dropped into a legendary wine-bar lined with wall-to-ceiling bottles – Cantine del Vino Gia Schiavi. And here was that very same Pinot Grigio by the glass – together with an array of delicious little cicchetti (canapés), the Venetian equivalent of Spanish tapas or pintxos. All deiicious, and offering another dreamy experience, leaning on a canalside wall, sipping wine and contemplating reflections.
Eating on a bridge
Across Rialto bridge, packed with tourists and past the market we reached a charming little restaurant monopolising its own little bridge. Osteria Sora Al Ponte was proof that in Venice you can actually eat well, have affable, efficient service and indulge in more Pinot Grigio with a canal view thrown in.
Contemporary art in mansions and churches
Being in Venice at the tail-end of the Biennale, we decided to skip the shows of the national pavilions in the giardini and restrict our art binge to parallel exhibitions in town. Ai Wei Wei in the Palladian church of San Giorgio on its own little island was quite a show-stopper. Here the Chinese dissident artist filled the nave with an extraordinary glass sculpture representing La Commedia Humana – a tangle of writhing skulls and claws in darkened glass, made in Murano of course. The exhibition extended to spaces behind the altar – more glass, plus large works composed of lego mosaics.
Not to be missed was the fabulous exhibition at the Fondazione Cini behind the church – read my post about Venini glass here.
Ai Wei Wei is world renowned, but a new discovery came hidden away in the mid-15th century Palazzo Contarini Polignac beside the Canal Grande. This was the Korean artist Kwang Young Chun who, later in his career, has discovered hanji paper (handmade mulberry paper) used in vintage Korean books. With this material he has created what he calls aggregations: huge sculptures and wall pieces, each composed of small triangular bundles that symbolise a recycling of time and spirit, giving life to ancient words and the people who read them. Staged in various rooms of this spectacular, somewhat distressed palazzo, with much of the owners' furniture removed or kept in shadow, it made a moving and very beautiful experience.
Back to San Marco
Sometimes you just have to confront the heaving crowds of San Marco In this case it was to visit David Chipperfield's intelligent revamp of the upper floors of the Procuratie Vecchie, an immense building dating back to the 13th century that monopolises the northern side. Once home to high officials and clerks, this vast space is now transformed into an elegant enfilade of arches and adjoining spaces – a library, a café, an exhibition space. Beware though, access to the roof terrace is restricted to Thursdays, leaving many visitors irate.
Then came the sunsets – unforgettable farewells to this magical city.