Recently I was lured back to Palestine – though sadly it was just through my palate, not my entire body. This happened when I was invited to give a short talk about knafeh at the Bethlehem Cultural Festival in London, leading me to dive back into my photo archives to jog my memory. Knafeh (or kunafa or kunafeh) is the Middle East's iconic cheesecake, its many variants found from Egypt to Turkey, although the main concentration is in Palestine and Lebanon.
The art of knafeh
It's the former that claims the invention of this gooey, cheesy, crunchy cake-cum-tart – and in particular the stunningly creative, foodie city of Nablus*. Having visited it several times over the years (read my post about Balata, the sprawling refugee camp, and an older overview of the city here), I decided their knafeh deserved a post alone.
Every Palestinian maintains that Al-Aqsa Sweets is the top source in town – there are even Youtube videos on it, so great is its fame. And as you wander through the milling casbah, an Ottoman maze of roofed passages, souks, alleyways and stairways between solid limestone walls, it's not too hard to find the flagship. Past the clocktower and mosque, turn right!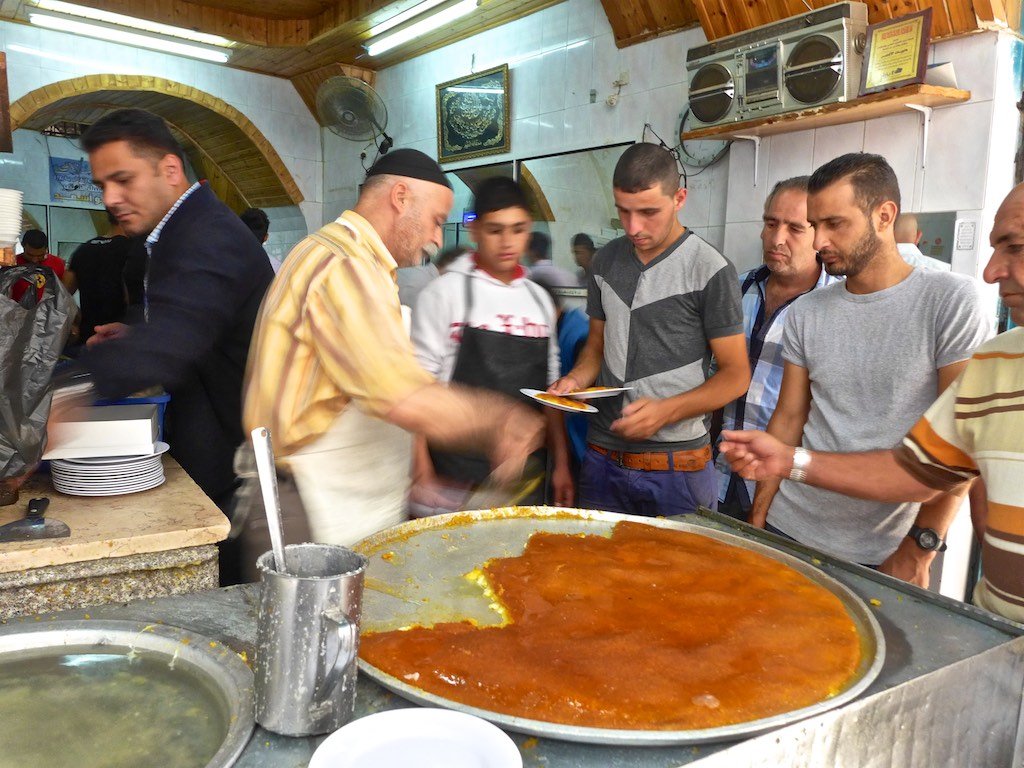 Spot the addicts
Clustered impatiently inside and outside the gastronomic landmark are salivating young people, often waiting for the next platter to be carried in – hot, sweet, ready to devour. Inside the simple tiled interior are a few tables, a counter for takeaways and space for the owner himself. Reigning supreme, surrounded by hungry punters, he slices the dessert with a spatula then casually slaps portions onto plates which he hands out. Hardly elegant in serving style, but who cares? Certainly not the knafeh addicts, many of whom are students at Palestine's largest university. Others are older men or women with children.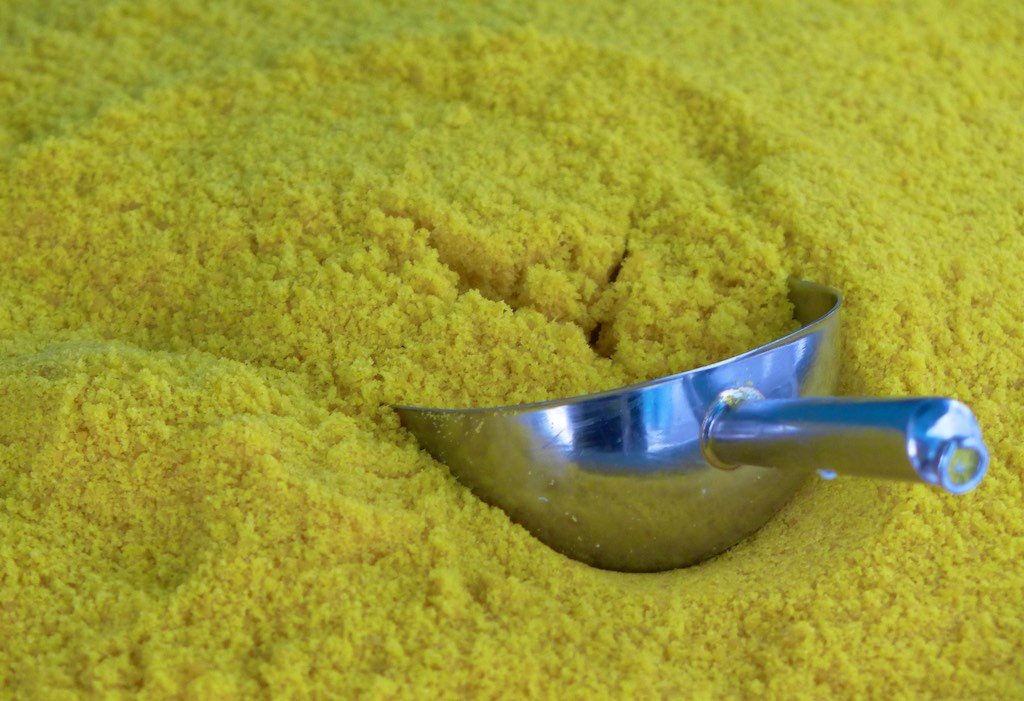 How this magical dessert is made
Across the street is the bakery itself where this delicacy is made on huge round platters. First the metal tray is greased with ghee, then covered with a layer of either fine semolina grain or kataifi, a shredded phyllo dough like vermicelli. After being smoothed down evenly, the grain is blanketed with broken pieces of akashi, a salted cheese originally from Acca (Acre). If that's not available, then any white cheese is substituted whether goat, sheep or cow and, for Palestinians abroad, halloumi, mozzarella and/ or ricotta.
Revolving on a metal plate above the burner, the knafeh gradually cooks, bringing a crustiness to the base as the cheese melts. Once the cook decides the base is firm and crunchy, he places another platter on top and flips the entire 'cake' – a bit like a Spanish tortilla – making the cooked base the top.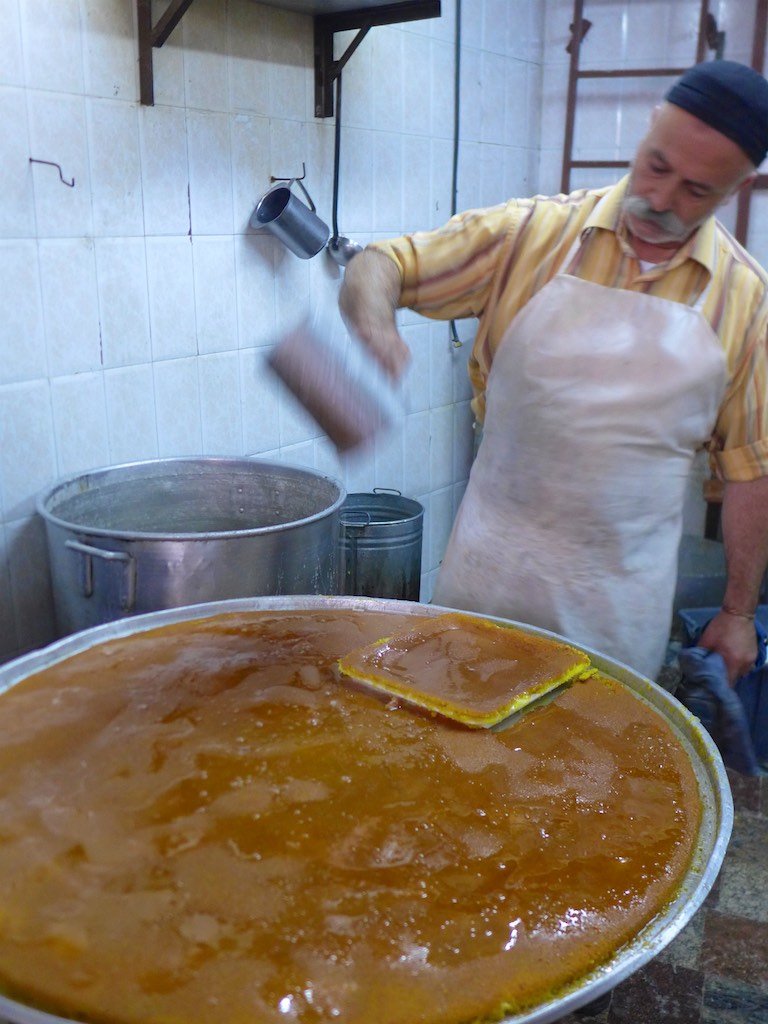 Then comes the final touch – a generous dousing of syrup – simple sugared water, often flavoured with rose or orange-blossom water. Sometimes it is a lurid orange colour – the result of food colouring.
Ready to eat: going going gone
Et voila! the knafeh is at its best, warm, creamy, crunchy and incredibly sweet. An optional addition is a sprinkling of pistachio nuts – though Al-Aqsa Sweets present it unadorned. Apparently they cook about 50 of these platters a day – a huge quantity for a city of 160,000 and easily beating competitors.
Alternatives versions abound – for example Egyptians include a milk cream between the layers, while in Gaza a wealth of nuts adds extra crunch to the semolina crust, and in Bethlehem the kataifi is flavoured with cinnamon and walnuts. At the London event where I spoke about this dessert, two very refined versions were served by immaculately attired waiters in a rather plush Lebanese restaurant – hardly the same, but the pleasure was identical – or at least close.
So take your pick, but believe me, it's hard to beat Al-Aqsa's quintessential version.
*Activist Nablus
A short but necessary addendum to the above is about Nablus' role in opposing continual repression from the IDF (Israeli army). Regular incursions, arrests and raids on the city have stepped up in 2022, with five killings in October alone. The Old City has emerged as a centre of resistance through an armed group, the Lions' Den putting Nablus nearly on a par with Jenin, further north in the West Bank. This year in total over 200 Palestinians have been killed throughout the territories, a quarter of whom were children.