Travelling to one foreign country, then tiptoeing into another often brings up the unexpected. Border areas have always fascinated me – both before and after the crossing. Both sides leave a trace of their culture on the other. So a trip to Trieste inevitably led me to a taste of Slovenia which virtually encircles this hybrid city, once the prosperous port of the Austro-Hungarian empire. Venice is just across the vast brooding Gulf – but this trail was all about osmize.
An osmiza for a farm lunch on the limestone plateau above Trieste
Heard of them? No, I hadn't either but was delighted to discover this tradition that goes back to 1784 when the region was ruled by the Habsburgs from Vienna. The very word osmiza (plural = osmize) derives from an ancient Slovenian word for eight – orem. At the time the Habsburg king decreed that every farmer could open his gates to foodie punters and feed them their products, tax-free – but only for eight days a year.
As the centuries rolled by, politics changed and the system morphed – so now most of the one hundred or so farms in the Carso open for a fortnight or even a month. Even better for eager foodies, they operate a straightforward website with opening dates. And no booking needed.
A relaxed chat over young Terrano wine produced just a few minutes away
The Carso – or Karst plateau – ends abruptly at the coast – here at Sistiana
The Carso itself is a huge hunk of limestone plateau, a dark grey belt of karst rock extending behind Trieste far into Slovenia, south into Istria, and ending abruptly at the Gulf. It's said that its rich soil produces exceptional vegetables and animal feed – hence the flavoursome charcuterie on offer.
The vineyards produce a punchy red wine called Terrano (drunk young as it doesn't age well), while the farms specialise in delicious rosciutto, pancetta, salamis and cheese. Chickens trot around – so hard-boiled eggs feature on the menu too. It's all simple stuff, eaten at a trestle table in the garden or in cooler months inside the farmhouse itself.
They got the spelling wrong! But the traditional bunch of leaves survives
There was a choice of three osmize that were open within a half-hour's drive from Trieste. We ended up at Fabec Franc in the village of Malchina inland from the beautiful riviera between Sistiana and Duino, and a short hop to the Slovenian border. Guided by a bunch of withered leaves attached to a sign (an ancient osmiza tradition), we were soon seated in a large, sunny garden and tucking into Fabec Franc's offerings. Some I knew – others I didn't and there would be no translation into English, though a menu board inside listed the choice in three languages – Slovenian, Italian and German. Of course! This is border country on the edge of Mitteleuropa.
The trilingual menu (Slovenian, Italian, German) reflects the mixed history of this region
Hard to know where to start…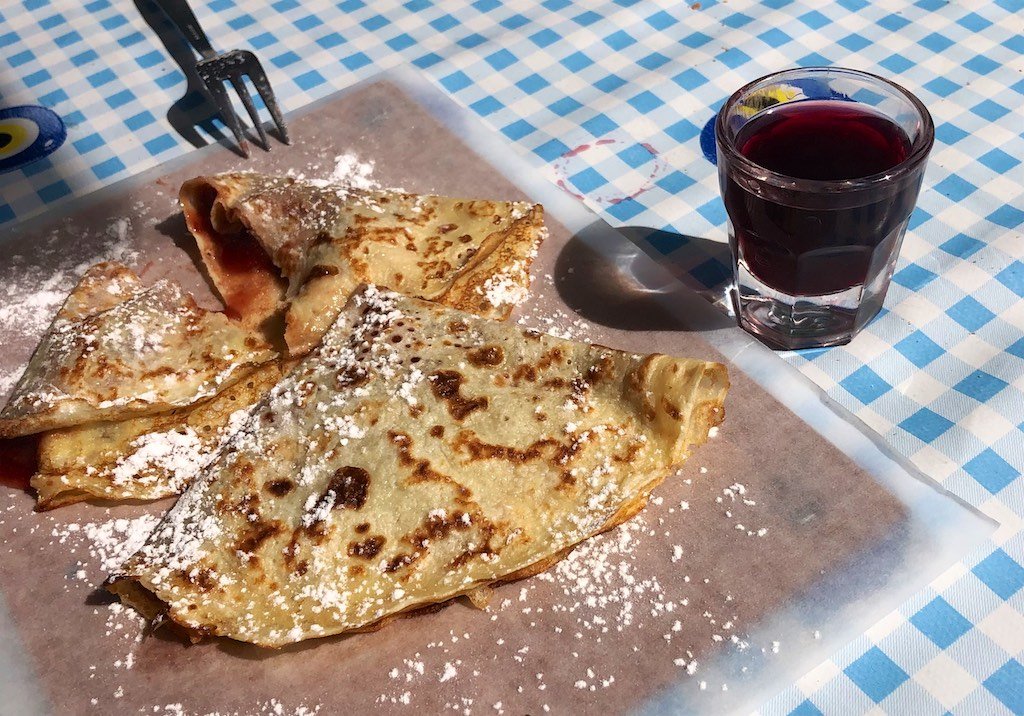 Not apfelstrudel but a dessert of perfect crepes – a fitting end to our Carso lunch
Service was smiling, occasionalIy sporadic, but I loved the informality of it all – the owner Franc sipping a glass of wine as he takes a break from the 10-10pm opening hours, the way you order at the bar then, miraculously a platter appears at your table – the latter big enough to share with other clients.
There's no bill – you just pay at the counter before leaving – and yes, there was a card-reader though it needed charging, such is the chilled approach. What a fabulous system, what a history, what winning people and what piggie delights! Ciao Franc – a presto!