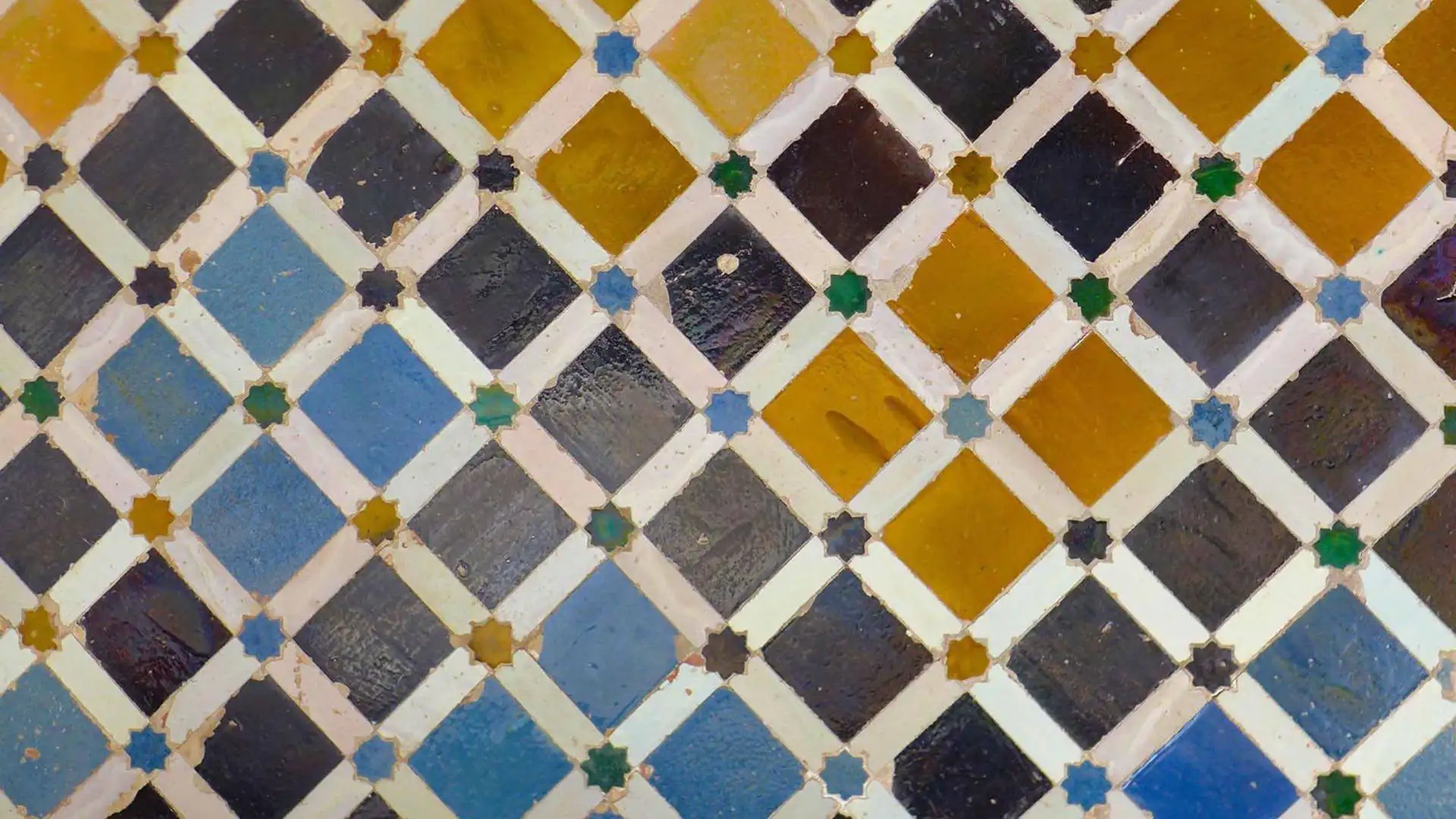 Andaluz - a Food Journey through Southern Spain
Published in the US in November 2018 and the UK in 2019, this vivid window on the history, landscapes and food of Andalucía contains over 100 recipes plus chapters of travelogue and culinary history which reveal the lasting impact of the Moors of Al-Andalus. My photos, taken over multiple trips, reflect the idiosyncrasies and beauty of this incredible region. A must for anyone who knows and loves Andalucia, wants inspiration to go there or lusts after an authentic andaluz dish...
"Fiona Dunlop does it again and brings us a region's essence. This time it's the turn of semolina crumbs from Almeria and Almond sponge cake from Antequera. She sums up Southern Spain—a pivotal meeting point of religions and cultures—and avoids trends and fashion. Andaluz gives the confidence to find the area's best sun drenched dishes and cook them too." —Yotam Ottolenghi
"This book is a deep dive into the food, culture, and history of southern Spain—a region that is very close to my heart. Fiona Dunlop tells the amazing stories of the immigrants and conquerors who left their mark on the region—culinary legacies that have made Andalucía one of the most iconic food regions in the world" — José Andrés
Both cookbook and travelogue, this homage to the land of the Arabs and Berbers reveals mouth-watering and educational excursions into the region's little towns and the kitchens of local professional chefs and home cooks. A little history adds to the mix, as British author Dunlop (Mexican Modern, 2013) explains how eight centuries of Moorish rule (from the eighth to the fifteenth century) defined southern Spain's personality, culinary and otherwise. .. Chef profiles are featured in tandem with restaurant descriptions; who could resist, for instance, a table in the middle of a bullring, or a chat with an 80-year-old preparing marinated turkey. Includes notes on regional specialties, like iberico ham and black pigs, and an annotated list of the featured restaurants. A true work of art—and love." Booklist
Read my blog post about "the making of Andaluz"
Read an extract in this newspaper article here
Available at:-
For the UK:
Network Books
For the US:
Interlink Books
The Book Depository (free postage worldwide!)
Amazon - whatever your country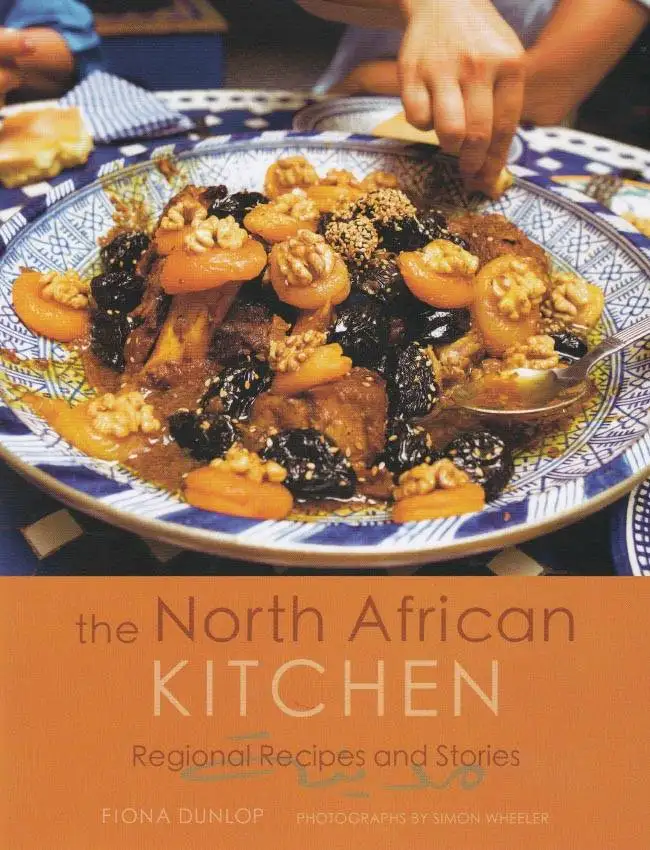 The North African Kitchen
This came out as Medina Kitchen in its UK original (Mitchell Beazley / Octopus) in 2007, which you can still track down. I visited homes in Morocco, Tunisia and Libya (under the iniquitous Gaddafi) to select eight home cooks, explore their towns and markets with them and reveal their luscious recipes. As usual, I include plenty of snippets of history and culture about each place as well as the cooks' personal stories. Packed with authentic, easy and timeless recipes with quirky photos by Simon Wheeler.
"Work up an appetite with Medina Kitchen, an inspiring guide to traditional North African cuisine."
Marie Claire, UK
"Delightful and beautifully illustrated book about home cooking." The Good Book Guide
"From the walled quarters of Marrakech and Fez to the cooks of Tripoli, Tunis and Carthage... Dunlop brings both the people and their recipes to life." The Independent
Mexican Modern / Real Mexican Food
Still popular in the US (the British original was called Viva la Revolucion!), this cookbook looks at the revival of pre-hispanic food in contemporary Mexican restaurants in Mexico City, Oaxaca, Puebla, Michoacan and the Yucatan. Recipes by top chefs include Enrique Olvera, Martha Ortiz and Alejandro Ruiz who feature beside culinary history and anecdotes about the seductive and unique Mexican culture. Photos by Jean-Blaise Hall & some by me. Also exists in UK paperback as Real Mexican Food.
"Fiona Dunlop's latest travel/ cookbook...will put a smile on any food lover's face" House & Garden
"A captivating book" Dan Lepard, Guardian
" Travelling extensively across Mexico, she translates into recipes what she sees as the country's "baroque imagination and deep soul" and its tradition of fiery creativity...The book leaves you longing for the kick of chili in a plate of frijoles rancheros and the hot feeling of the desert sun on your face." Sunday Telegraph
National Geographic Traveller Spain, 4th edition
A classic and selective guide-book packed with information and travel tips, as well as meaty history and culture sections. Repeated editions meant many long journeys through the ever-captivating peninsula and its islands.
Spain's rich and fascinating culture is covered in depth, taking the reader on an inspiring journey from the lush hills of Galicia and the Basque country through Madrid, Barcelona, Valencia, Granada to the white villages of Andalucia. Food, history, design, architecture, wildlife, beaches - it's all there.
National Geographic Traveller Portugal, 2nd edition
Ditto to the above, although as it has been updated since by other writers, the latest 3rd edition is no longer entirely my voice. Atmospheric photos by Tino Soriano.
From the hidden alleys and grand palaces of Lisbon, Porto and Coimbra, through remote mountains and lush valleys to the beautiful gardens of Madeira, readers will discover the secrets of the country's seven regions. Detailed sidebars focus on topics from Portugal's famous wines to the soulful music of Fado.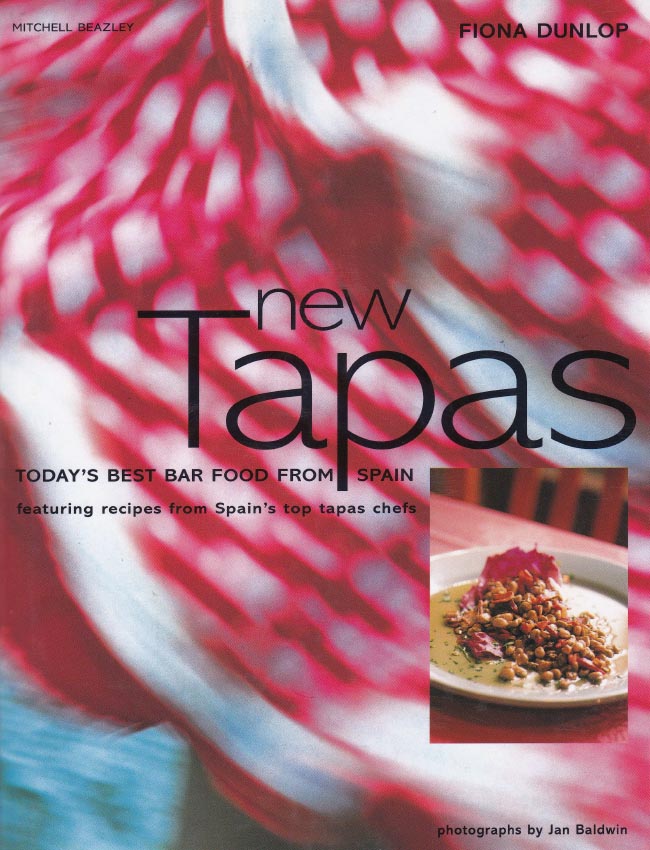 New Tapas
This book, first published in 2002, was the result of an epiphany when I discovered I could indulge my passion for Spanish tapas while being paid to write about them! Challenging drives across Spain finally resulted in a selection of 26 different cooks whose tapas exemplified Spain's nueva cocina of the 1990s. An international best-seller, widely translated, much thanks to fabulous photos and close collaboration with Jan Baldwin.
"a very good book and a fascinating guide to some genuinely innovative cooking... New Tapas shows how they're really done, by chefs who keep the tradition lively with intelligent experimentation..." The Guardian

"a gustatory bar crawl round Spain: tapas as a vibrant part of Spanish life" Sunday Times"
"…like a gastronomic travel book with a bit of history thrown in... a slick, informed (and informative) writing style" Time Out, London
"the cutting edge of Spanish cool - an engaging and contemporary snapshot of Spanish food"
Glasgow Herald
In the Asian style
In a very different vein, this lavishly illustrated book explores the interior design styles and influences of South East Asia, with original photography in Bali, Singapore and Bangkok. It was fascinating to research these houses and meet their owners in a part of the world I knew and loved, having travelled there extensively throughout the 1990s. The book stands up well after all this time thanks to a serene design, illuminating text and superb photos by Kim Sayer.
"If you don't get an idea to lift from here for your home, it would be surprising."
Evening Standard
"threads oriental influences with practical designs for creating a Zen-like home with good feng shui..."
Sunday Telegraph
All my books:
Definitive Dominican Republic (Definitive Caribbean, 2013)
Mexican Modern (Interlink Books 2009, 2013)
Viva la Revolución! (Mitchell Beazley, 2008, paperback 2010)
The North African Kitchen (Interlink Books, 2008)
Medina Kitchen (Mitchell Beazley, 2007)
Spain Chic (Chic Destinations) (2006)
National Geographic Traveler - Portugal

(2005, 2012)
New Tapas

(Mitchell Beazley 2002, paperback 2006)
In the Asian style

(New Holland, 2002)
Adventure Traveller - Southern Africa (Frommer / AA 2001) - chapters on Madagascar, Mozambique, Malawi
National Geographic Traveller - Spain

(2001, 2005, 2008, 2012)
Adventure Traveller - Central America (Frommer / AA 2000) chapters on Mexico and Guatemala
Explorer India ( AA / Fodor 1998, 2001, 2002)
Explorer Vietnam ( AA / Fodor 1998)
Essential Mexico ( AA 1998 )
Explorer Costa Rica ( AA / Fodor 1997, 1999 )
Citypack Paris ( AA 1997, 1998 )
Explorer Indonesia ( AA / Fodor 1996 )
Explorer Mexico ( AA / Fodor 1995, 1997, 1999 )
Explorer Singapore & Malaysia ( AA / Fodor 1994 )
Explorer Paris ( AA / Fodor 1993, 1996, 1998, 2000 )
Paris Art Guide ( A & C Black 1981, 1984, 1988 )
Features published in:
The Observer
Sunday Telegraph
Financial Times
Guardian
Sunday Times
The Times
The Independent
CNN Traveller
CNN Travel (website)
New Statesman
Four Seasons
Harper's Bazaar
House & Garden
How to Spend It
Food & Travel
Journeys
Olive
Jamie
Psychologies
Marie Claire
Elle Decoration (UK, Japan, Germany)
Homes & Gardens (UK)
Interni (Italy)
Vogue Décoration (France)
Maison Française (France)
Architektur + Wohnen (Germany)
Artline, Art International, Flash Art, Artnews
State of Art